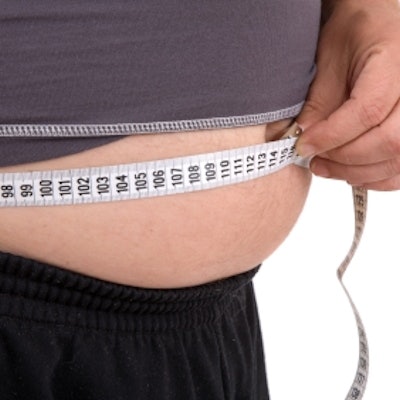 Obesity causes chronic inflammation that increases the growth of bone-destroying cells during periodontitis, according to an animal study published in the Journal of Dental Research. The inflammation is linked to heightened bone loss around teeth.
Excessive inflammation caused by obesity increases the development of monocytic myeloid-derived suppressor cells (M-MDSCs), which are immune cells that originate in bone marrow and regulate immunity during illness. These immune cells develop into different cells, including the bone-degenerating cells osteoclasts. Obesity, therefore, raises the risk of periodontal bone loss, the authors wrote.
"M-MDSC expansion during obesity to become osteoclasts during periodontitis is related to increased alveolar bone destruction, providing a more detailed mechanistic appreciation of the interconnection between obesity and periodontitis," wrote the group, led by Dr. Keith Kirkwood, PhD, a professor of oral biology at the University at Buffalo School of Dental Medicine (J Dent Res, October 12, 2021).
To explore the relationship between obesity and gum disease, two groups of mice were fed vastly different diets for 16 weeks. One group ate a low-fat diet that derived 10% of its energy from fat. The other group ate a high-fat diet that drew 45% of its energy from fat.
In the high-fat diet group, mice experienced obesity, more inflammation, and a higher increase of M-MDSCs in the bone marrow and spleen compared to mice in the low-fat diet group.
Additionally, the mice eating a high-fat diet developed a significantly larger number of osteoclasts and experienced more alveolar bone loss, according to the authors.
The results may provide a better understanding of the mechanisms behind other chronic inflammatory, bone-related diseases that develop concurrently with obesity, such as arthritis and osteoporosis, they wrote.