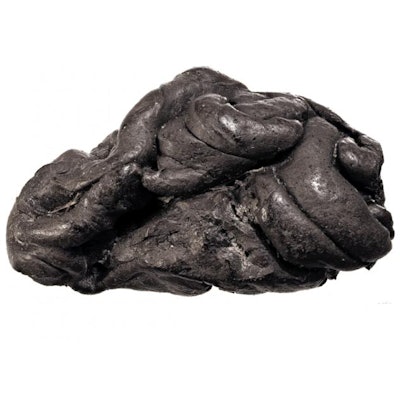 A complete human genome, oral microbes, and human pathogens were retrieved from a 5,700-year-old type of "chewing gum," untapping a new source of ancient DNA and shedding light on the person who chewed it, according to research published on December 17 in Nature Communications.
Archaeologists discovered the chewed birch pitch, which they believe people gnawed on like chewing gum or to suppress hunger or relieve toothaches, during excavations at Syltholm, east of Rødbyhavn in southern Denmark. This marks the first time that scientists have extracted a complete human genome from a source other than bones, the researchers noted.
"The results highlight the potential of chewed birch pitch as a source of ancient DNA," wrote the authors, led by Theis Jensen, PhD, of the department of archaeology at the University of York in the U.K.
The Museum Lolland-Falster in connection with the construction of the Fehmarn tunnel are overseeing the excavations. The find is considered a very valuable source of ancient DNA because no human remains have been recovered at the site.
After extracting the DNA, the scientists have determined that a female chewed the birch pitch. Her age is unknown, but she was more genetically related to hunter-gatherers from mainland Europe than to those who lived in central Scandinavia during these times. She likely had dark skin and hair and blue eyes, the authors wrote.
Traces of plant and animal DNA, specifically from hazelnuts and duck, also were found in the pitch. This suggests that the nuts and duck were part of the female's diet. It also suggests that people who occupied the area heavily exploited wild resources well into the Neolithic period, when farming and domesticated animals were first introduced into southern Scandinavia, the researchers noted.
DNA from several oral microbiota from the pitch, including many commensal species and opportunistic pathogens, were extracted from the birch pitch, the authors wrote.
Chewing gums like this hold the potential to a better understanding of the composition of ancestral microbiome and the evolution of human pathogens. The researchers hope studying the gums will help them predict how pathogens may behave, opening up the possibility of containing or eliminating them in the future.
The archaeologists believe other discoveries like this will have a profound effect on the future. Additionally, the pieces of chewed birch pitch are an excellent source of ancient DNA, the authors noted.
"The genomic information preserved in chewed pieces of birch pitch offers a snapshot of people's lives, providing information on genetic ancestry, phenotype, health status, and even subsistence," they wrote.