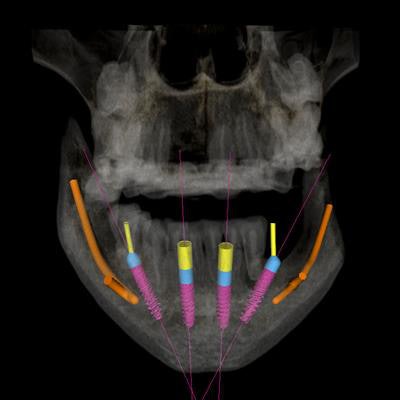 Time. During the shutdown, it seemed we had too much of it. Now, during recovery, we can't find enough of it as we manage enhanced safety protocols and creative patient scheduling.
The global health crisis has made many doctors and practice owners reconsider if they're using their time wisely. As business picks up and we work toward recovery, it's worth considering what tools may be available to help us save time and provide better care for patients.
Use your (and your patients') time wisely
Patients are limiting their trips outside the home, often putting off routine care. For those patients who have prioritized a trip to your practice, how can you make the most of their time and yours? In-house cone-beam computed tomography (CBCT) for general dentists has been a growing trend -- even before the pandemic -- but now it's becoming even more of a benefit.
Instead of multiappointment treatment planning, an initial working treatment plan may be provided to the patient during the first or second visit, utilizing the CBCT imaging modality. Combining appointments and spending a half-day with patients rather than spreading treatment out over two or three visits keeps them from making several trips. At the same time, this is increasing the patient's acceptance rate by offering longer treatment blocks when possible, thereby minimizing their exposure to other patients.
Besides being able to offer more complex treatments in-house, there are other benefits such as simply saving your patients unnecessary trips all over town. For example, you may refer them to an endodontist because a 2D radiograph isn't enough to establish an accurate diagnosis, only to find out that the prognosis of the tooth is poor and doesn't require root canal treatment. A 3D imaging scan provides you with the confidence and the proper information to get to the root of the problem and make the right recommendation for your patient.
Save chair time
Everyone wants to know the return on investment (ROI) for installing a CBCT system. How long will it take to earn back the money you've invested with all the new procedures you're now able to perform? For me, the real value is what CBCT saves me in chair time. As most practices are spacing out appointments to avoid having too many people in the office and allowing more time for disinfecting between patients, maximizing chair time with the patients who do come into the office is now even more valuable. This was a key point mentioned in a recent webinar by Miguel Stanley, DDS, discussing the "slow dentistry" concept.1
Every year, we find new ways to use our CS 8100 3D extraoral imaging system (Carestream Dental), whether it's software upgrades that reduce metal artifacts or 3D object scanning for duplicating dentures. Every time the system simplifies a task -- like making a diagnosis more obvious or eliminating the need to take a traditional impression -- there's more time to spend with the next patient. CS Connect (Carestream Dental) is an easily accessible portal that makes it simple to send files to my local lab. So, while in-house 3D printers are another trend on the rise, I find more value in letting the professionals at the lab handle design and printing, allowing the clinician to focus on productive chair time.
Time to see more, do more
Of course, general practitioners (GPs) using CBCT is not new, but COVID-19 may have accelerated the need for it. Whether a clinician is introducing 3D imaging to his or her practice with the purpose of placing implants or simply for diagnostic purposes, CBCT provides a comprehensive view of patients' dentition. Scott Ganz, DMD, has pointed out that "there's danger when we're bound by two dimensions in a three-dimensional world."2 CBCT allows us to optimize surgical and prosthetic results while enhancing patient safety.
Imaging in 3D also helps clinicians identify root fractures and endodontic lesions and analyze the osseous structures of the temporomandibular joint (TMJ). Some GPs are also utilizing the technology to visualize a patient's airway. The multimodality system utilized in our office has more uses than we'd ever considered, such as using 3D object scanning to easily duplicate dentures or for scanning the immediate provisional for a final prosthesis in an all-on-six case without having to take a traditional impression.
CBCT technology has helped introduce dental implants into my practice. It gives us the flexibility to take 3D scans the same day as the initial consult while controlling the field-of-view to limit the region of interest and radiation exposure. Post-op scans can be taken immediately following surgery to confirm the placement of the implant. Marco Rinaldi, DMD, writes that 3D helps us remove obstacles, as in cases where we can visualize insufficient bone and perform regenerative procedures prior to implant surgery, and avoid anatomical landmarks, such as nerves, the sinus, or other anatomical anomalies.2
In the digital images below, you can see where CBCT technology and its associated treatment planning software allow us to "remove obstacles" by treatment planning angled implant placement and to "avoid obstacles" by treatment planning a prosthetic appliance that will decompress the inferior alveolar vein (IAV) nerve bundle. When combining a CBCT system with an intraoral scanner (CS 3700, Carestream Dental), I gain even more confidence in implant planning by merging a 3D scan with a digital impression for a prosthetic-driven approach to implants.
Mitra Sadrameli, DMD, states that treatment planning in 3D also allows for the consideration of greater specific patient-related information, resulting in surgical plans (and ultimately prosthetics) that are personalized for the patient.3 Consider the highly impacted maxillary molars that are evident in the above CBCT scans. A report from a maxillofacial oral radiologist (which I recommend with every scan) confirms that even though these are positioned superior to the level of the apices of the second molars, there is visual evidence that they are still in bone and present with no obvious pathologies, so they don't need specific treatment at this time. Periodic follow-up to evaluate stability of the impacted teeth may be considered.
As healthcare providers, dentists make tough decisions every day about patient health and safety: Which procedures should our patients strongly consider? Which ones could they delay and for how long? Having a 3D system in-house helps us make those decisions and also informs patients of the urgency of having serious issues addressed right away. We are continually finding new digital techniques and workflows for our practices. Incorporating digital software platforms, such as DTS Studio (Nobel Biocare), allows us to use our CBCT and intraoral scans to treatment plan surgeries and immediate provisionals, then import these into a dynamic guided navigation system (X-Nav Technologies). But as we've used all the time allotted for this article, that's a hot topic for another day.
If we've learned anything in 2020, it's that time is precious. Use your valuable time to make the best choices for your patients.
References
Stanley M, LePenske C. Digital dentistry -- a safer way of practicing in the post-COVID. Carestream Dental Webinar; May 15, 2020. https://www.facebook.com/events/2568925616754779/.
Rinaldi M, Ganz S, Motolla A. Computer-Guided Applications for Dental Implants, Bone Grafting, and Reconstructive Surgery. Elsevier Publications; 2016.
Sadrameli M. Anatomic considerations in dental implant surgery. In: Karateew ED, ed. Implant Esthetics: Keys to Diagnosis and Treatment. Springer International Publishing; 2017.
Robert Pauley Jr., DMD, is a member of the ADA and the Georgia Dental Association, a board-certified diplomate of the International Congress of Oral Implantologists (ICOI), a fellow of the ICOI, an associate fellow of the American Academy of Implant Dentistry, an active member of the Computer Aided Implantology Academy, and a member of the American Academy of Cosmetic Dentistry. He is also a co-founder of Buffalo Tactics, an educational arm allowing him to share his expertise with other dental colleagues. Through Buffalo Tactics, Dr. Pauley can follow in the footsteps of mentors who have given their time, knowledge, and leadership in his educational journey.
The comments and observations expressed herein do not necessarily reflect the opinions of DrBicuspid.com, nor should they be construed as an endorsement or admonishment of any particular idea, vendor, or organization.