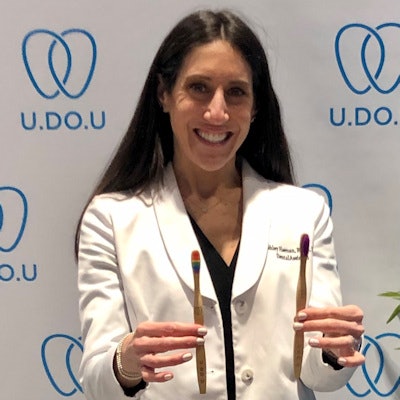 During her decade-plus career as a registered dental hygienist, Ashley Heenan grew tired of hearing that many patients threw away the plastic goodie bags that were given at the end of their visits.
Fed up with the waste of toothbrushes, bags, and floss packages -- and what that waste was doing to the planet -- Heenan started the sustainable oral care product line U.Do.U. in her home state of Illinois. Now, she is giving away her sustainable products at the ends of visits at the Chicagoland practice where she works.
"As a hygienist, I was handing out plastic bags filled with plastic brushes at six-month appointments," Heenan told DrBicuspid.com while showing off her products at the Chicago Dental Society Midwinter Meeting. "Patients would just toss the bags. It was so much waste."
After two years in development, Heenan's line is finally on the market. It includes bamboo toothbrushes for adults and kids, shred-resistant and natural wax floss, and dental picks that are free from the industrial chemical bisphenol A and polyfluoroalkyl substances, which are known as "forever chemicals" because they don't break down naturally and instead build up in the environment.
"In the office, I was promoting stuff I don't use or would never give to my kids," Heenan said. "I wanted to create a brand that aligned with my values, and that's how it began."
The line's name U.Do.U. is a quasi catchphrase for the hygienist, who is the middle child of five siblings and who never wants to take sides or be too judgmental. But the name is a bit of a misnomer because helping others is a foundational component of the U.Do.U. brand.
For every item purchased, U.Do.U donates an item to another organization that needs it. It's part of the Smile for Smile project Heenan started in conjunction with the U.Do.U brand, and it stems from Heenan's belief that every person deserves access to proper dental products.
"Building a brand like this is rewarding and something I can be proud of, and so far, it has received a warm reception," she said.
Those interested in learning more can visit U.Do.U.