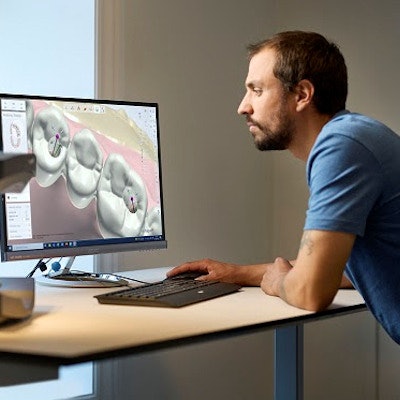 3Shape has launched Dental System 2022, the latest version of its CAD software for dental laboratories.
Dental System 2022 is designed to simplify lab-to-dentist communications and streamline digital integrations. New features include virtual preparation capabilities, which give lab technicians more control over the restorative design workflow by enabling them to virtually recommend tooth prep designs to dentists, 3Shape said.
Other new features include the following:
Web case 3D preview: Dental System creates a URL link to a lab's restorative design to make it easier for dentists to review treatment proposals. With the URL, dentists can preview designs from any device.
Denture on implants: Dental System preserves space for screw holes in implant-supported dentures and stud (locator) attachments for overdenture designs to make planning restorative designs more predictable.
New sculpt features: Dental System's sculpt tools help dental technicians digitally design restorations the way they have designed them using conventional methods.
Models for articulator: Updates allow dental technicians to toggle between digital and analog, because Dental System adds print material based on the technician's physical articulator brand to the digital dental models.
Ultimately, the software takes what dental technicians have always done using analog methods and makes it more efficient and cost-effective for them to do it digitally, company representatives said.