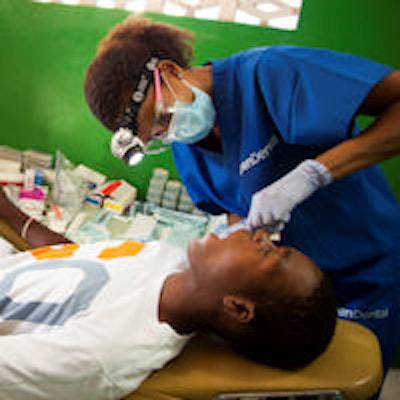 A team of nine Aspen Dental clinicians recently provided free dental care to almost 400 patients during a weeklong humanitarian mission to Haiti, a mission that for some of the volunteers turned out to be deeply personal.
"It was very fulfilling for me, because I was able to provide the care and talk to people in Creole and explain to them how to take better care of their mouth," said dental assistant Katheline Joseph, a native of Haiti from Fairfield, CT.
One of her patients was an 11-year-old girl who walked for hours just to get treatment, because her front teeth were filled with cavities. She pleaded to have the teeth restored and not pulled, but they were too decayed.
Joseph told the girl she could have dentures made to bring back her smile, but she needed her mother's consent. The next morning, the little girl and her mother were the first in line -- the procedure was a success.
"She gave me a hug, and she was so happy," Joseph said. "Her smile was priceless."
Joseph was invited to be a part of this team by Chedly Schatzie Vincent, DMD, who has two practices in Fairfield and Norwalk, CT. Her parents are from Haiti, and this recent dental mission was the second one that Dr. Vincent has led.
"By the time most of these people see us, extraction is the only option," Dr. Vincent said. "People have been without teeth for such a long time. My heart goes out to them."
According to the clinicians, conditions have improved somewhat since the earthquake in 2010. Tents are no longer in the streets and buses are running, for instance. But one thing has not changed -- the lack of access to dental care. Dental education is almost absent there.
Dental hygienist Janette Charles remembered not having access to dental care as a child growing up on the nearby island of Dominica. She sees the same challenges in Haiti today.
"It's so rewarding, not only to have a skill, but to use that skill for people who so desperately need it."
— David Elrod, DMD
"It's so rewarding, not only to have a skill, but to use that skill for people who so desperately need it," said David Elrod, DMD, who has practices in Clarksville, TN, and Paducah, KY.
He described the long lines of people waiting for care. For many, this would be all the treatment they would get for a long time.
This year, the group brought along two lab technicians to make dentures. They had to develop a field-expedient device using a pressure cooker and a locally purchased bike tire pump to help make them.
"Being able to do what we did two years ago was awesome," Dr. Vincent said. "The ability to make dentures brought this trip to a totally different level. Giving someone their smile and self-confidence back -- and the ability to chew again -- is just amazing."
Lab technician Heather Sherman of Spring Hill, FL, remembered the look on the face of a woman in her 80s who couldn't stop smiling after receiving her new dentures.
"It was extremely emotional for me," Sherman said. "It shaved years off their appearance and on top of that they were able to eat regular food."