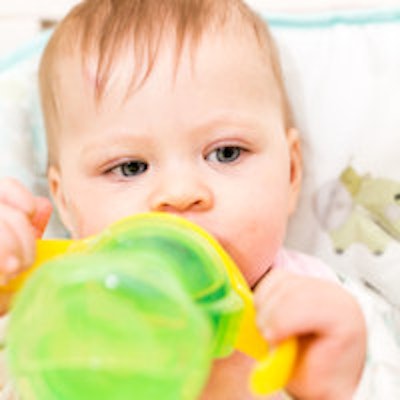 The average age of a child's first dental visit is about 2.5 years old, according to the results of a new U.S. survey released today. The findings indicate that three-quarters of parents are not following the American Academy of Pediatric Dentistry (AAPD) recommendation to take their children to the dentist by age 1.
"The lack of knowledge parents have, and the lack of urgency of taking their children to the dentist by age 1, is very concerning to me," stated lead study author Timothy S. Martinez, DMD, the associate dean of community partnerships and access to care at Western University College of Dental Medicine, in a press release.
The online survey of U.S. parents of children younger than age 18 was conducted by the Western University of Health Sciences College of Dental Medicine and funded by a grant by Dux Dental. It included more than 300 adults ages 18 to 65 and focused on parents' attitudes, knowledge, and beliefs regarding dental care for children and dental infection control for themselves and their children. The topics included the age a child should first see the dentist, use of dental sealants, and the use of disposable supplies in the dental office. A second telephone survey was conducted among 75 respondents ages 18 to 65 who fell below the U.S. poverty threshold.
In surveys completed by "low-income parents," their child's first visit to the dentist was at an average age of 3.4 years old, which is about a year older than the general population, the study authors noted. When the parents were asked on follow-up why they didn't seek earlier dental care, more than 60% said because they did not "think it was necessary." Even more surprisingly, more than 15% of the respondents said their pediatricians reinforced this belief.
Additionally, 9% of these parents said they could not afford dental care, and 13% said they weren't aware dental care was covered by their insurance.
Based on 2012 AAPD recommendations, a child should be seen by a dental professional no later than 12 months of age. The American Academy of Pediatrics recommends an oral health screening from the child's primary care provider by 6 months of age.
Dentists' role
General and pediatric dentists have an important role to play in increasing these patient visit rates, Dr. Martinez told DrBicuspid.com in an email interview.
"The lack of knowledge parents have, and the lack of urgency of taking their children to the dentist by age 1, is very concerning to me."
— Timothy S. Martinez, DMD
"General and pediatric dentists should coordinate, communicate, collaborate, and cooperate with pediatric primary care health professionals and community representatives so that education takes places around the importance of the first dental visit by age 1," he wrote.
Dr. Martinez was asked how partnerships are built among oral health professionals, hospitals, and healthcare plans.
"As health reform is evolving and new transformations are created, dental providers are being incorporated into the networks of medical health plans," he said. "Such new partnerships through contractual arrangements could have language articulated in their Standard Operating Procedures a specific policy around the 'first visit,' which determines practice guidelines."
The survey also asked how the parents became aware of the recommendation for a first dental visit by age 1. More than 40% said from their child's doctor or pediatrician (41%), followed by media (32%), the parent's own dentist (23%), and a family member or friend (5%).
"The top three actions that parents can take to be advocates for children's good oral health are to take them to a dental home or dental visit by age 1, make sure that their child gets sealants on their teeth, and send their child to a dental office that has a safe and clean environment," Dr. Martinez stated in the release.
"As suspected, consumers could benefit from strong messaging campaigns that educate parents on the importance of the first dental visit by age 1," he wrote to DrBicuspid.com. "The survey supports the notion that parents are not aware of this guideline. Hence, it is very important that both the medical and dental profession promote this behavior by educating their patients."