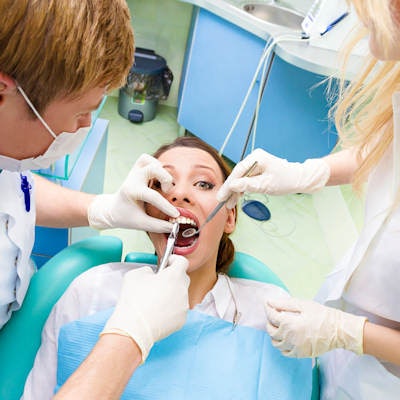 Dental hygienists feel ready to practice independently in underserved communities, according to a new study in the Journal of Dental Hygiene. Enabling hygienists to practice preventive care without supervision from a dentist can help resolve oral health disparities, suggests study author April Catlett, MDH, PhD.
Catlett measured perceived autonomy of hygienists currently practicing or teaching in states with various dental hygiene supervision levels.
"The attitudes of the dental hygienist sample from each of the four state dentist supervision levels support a move toward achieving professional jurisdiction of preventive dental care within the U.S.," she wrote (J Dent Hyg, August 2016, Vol. 90:4, pp. 249-256).
Measuring autonomy
While nearly all U.S. adults value their oral health, only 37% visit the dentist on an annual basis, according to a recent survey by ADA Health Policy Institute. For adults who didn't visit the dentist, cost was the most cited reason, regardless of respondents' household income, age, or type of insurance.
"The high cost of dental care, lack of dental insurance, and misdistribution of dental providers prevent many Americans from obtaining dental care," Catlett wrote. "Dental hygienists are licensed preventive dental professionals who could help reduce the current burden of need if they were permitted to work without dental supervision in all 50 states."
Catlett set out to evaluate how much dental hygienists felt their education and capabilities prepared them to practice without supervision from a dentist. Specifically, she measured hygienists' anticipated autonomy to provide preventive dental care to underserved communities and in-need populations.
Catlett began by designing a survey using the Dempster Practice Behaviors Scale (DPBS), a behavioral, action, and conduct assessment to judge autonomy in a practice setting. The scale measures autonomy on a scale from 30 to 150, with higher scores indicating higher levels of perceived autonomy. The scale has been used to measure autonomy of nurse practitioners and registered nurses in the U.S. and abroad.
Then, Catlett randomly selected eight sample states to include in the sample: Alabama, California, Colorado, Florida, North Carolina, Tennessee, Washington, and West Virginia. The included states represent four types of dental supervision levels:
Direct supervision states, where a dentist needs to be on the premises for a procedure to be performed
General supervision states, where a dentist needs to authorize a procedure but not be present
Direct access states, where hygienists can practice
States with a combination of two or more supervision levels
In June and July 2014, Catlett sent the survey to 100 female and 100 male hygienists within each of the eight randomly selected states. For states with fewer than 100 male hygienists, the survey was sent to all male hygienists to provide an adequately sized sample. Catlett received back 360 usable surveys from hygienists with diverse ages, educational backgrounds, and years of clinical experience.
With a mean DPBS score of 118.2, dental hygienists have high levels of perceived autonomy. In fact, hygienists scored higher on the scale than registered nurses in the U.S. and just below nurse practitioners.
Dempster Practice Behaviors Scale scores
Profession
Mean scores
Dental hygienists
118.2117
Registered nurses
117
Nurse practitioners
127
"The instrument scale does not classify a range for scoring," Catlett wrote. "When compared to other DPBS instrument research results, these findings show that dental hygienists within this sample perceived high levels of autonomy."
When broken down by supervision type, hygienists practicing in general supervision states felt most autonomous, while those practicing in direct supervision states had the lowest autonomy score.
"General supervision dental hygienists have the ability to work independently in some settings, whereas the dental hygienists in the direct supervision states are unable to work independently in any settings and had the lowest autonomy DPBS mean score of the four supervisory categories in the current study," Catlett wrote.
Interestingly, hygienists practicing in direct access states scored lower than expected on the scale, which Catlett attributes to regulations.
"This study revealed that one possible explanation of why direct access dental hygienists do not have a higher level of autonomy is due to bureaucratic restrictions where they are employed," she wrote. "For example, a 51- to 55-year-old female direct access clinician from California ... stated, 'My office has made their own rules, and in many ways my decisions are limited due to not being able to decide without a dentist giving the OK for treatment. Sometimes they agree and sometimes not.' "
Moving toward independent care
One of the study's biggest shortcomings was its relatively small sample size. The 360 completed surveys represent the feelings of 0.19% of the 191,985 active hygienists in the U.S., so the results may not be able to be generalized to larger populations of dental hygienists.
Also, hygienists who are interested in independent practice and self-direction may have been more likely to participate in the study compared with those who were not as interested in becoming autonomous, Catlett noted. And because autonomy is a controversial subject, some hygienists may not have felt comfortable responding at all.
Catlett hopes larger, future studies will continue to evaluate desired autonomy among dental hygienists. She also would like researchers to look into how hygienists' demographics, including age, gender, and education level, affect their autonomy scores.
"The DPBS scores of the study sample suggest that dental hygienists feel prepared and competent to perform preventive dental hygiene services without dentist supervision," she concluded.