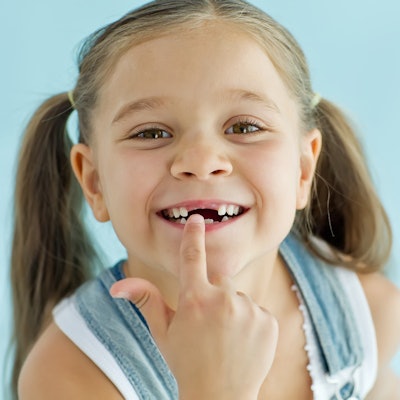 Children are raking in more cash than ever for their primary teeth. As National Tooth Fairy Day approaches, taking place on February 28, dental teams may want to share the going rates for baby teeth based on where they live in the U.S.
In 2021, the tooth fairy's average cash gift reached $4.70, according to the annual Original Tooth Fairy Poll from the Delta Dental Plans Association. This is the highest average amount ever recorded in the nearly 25-year-old poll.
The value of a lost baby tooth in 2021 is more than triple the average amount in 1998 when the poll first started: $1.30. It's also 4¢ higher than its previous peak in 2017.
"Even though the tooth fairy is a bit coy about disclosing financial details, she has been known to pay a premium for shiny, healthy teeth that will be used to build her castle in Glitterville," stated Dave Hawsey, vice president of marketing at Delta Dental of Arkansas, in a press release.
Approximately 1,000 parents from across the U.S. participated in the poll between December 28, 2020, and January 8, 2021. Typically, the poll has mirrored the economy's overall direction, tracking with trends of the S&P 500 for 16 of the past 19 years.
For example, the value of a single lost tooth increased 17% from 2020. The S&P 500 experienced similar growth, with a 19% increase over the same period, reaching its highest average since the inception of the survey, according to Delta Dental.
Location, location, location
Though the average rate per tooth is a pretty penny, some locations fare better than others. When the tooth fairy visits children in the northern part of the U.S., she leaves a whopping $5.72 per tooth. Meanwhile, children who live in the western U.S. net $5.54 for a baby tooth.
Children in other parts of the country don't do quite as well, according to the results. A child from a southern state may wake up to a gift of $4.45, a sum mostly in line with the U.S. average. But children in the Midwest only get an average of $3.66 per tooth.
"The annual Tooth Fairy Poll is a bit of light-hearted fun to draw attention to good oral care, starting with baby teeth," Hawsey explained. "Although baby teeth fall out, they are important for kids to learn how to speak, eat and smile properly."