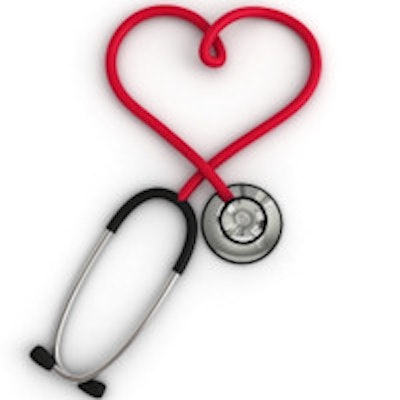 Is there a relationship between periodontal health and cardiac dysrhythmia? Yes, according to a study in the International Journal of Cardiology (March 1, 2013).
In fact, the study authors propose a way to lower the risk of developing atrial fibrillation (AF), the most common type of sustained cardiac dysrhythmia: by undergoing dental scaling at least once a year.
"Oral infections due to poor oral hygiene may also predispose patients to new-onset AF by adding to the inflammatory burden of the individuals," the researchers from Taiwan wrote.
Atrial fibrillation affected approximately 2.7 million Americans in 2010, according to the U.S. Centers for Disease Control and Prevention (CDC). AF's disorganized cardiac electrical impulses and incomplete atrial emptying place patients at significantly increased risk for clots, strokes, and heart failure, the CDC noted.
For this study, the researchers used data from Taiwan's National Health Insurance Research Database (NHIRD) for the year 2000 to identify 28,909 subjects age 60 or older who had no history of cardiac dysrhythmias. The NHIRD is a cohort database of medical claims data for 1 million Taiwanese citizens that is representative of the 26 million citizens enrolled in Taiwan's mandatory National Health Insurance (NHI) universal coverage program, according to the study authors. Although each individual's identity is encrypted to protect confidentiality, the code remains consistent throughout the dataset, which allowed the study authors to follow insurance claims by the same subject.
Large-scale data
Subjects from this group who had received dental scaling at least once per year from 1998 to 2000 (n = 3,391) were referred to as the "exposed" group. This group was then matched to a total of 13,564 individuals with similar age, sex, and significant underlying diseases using risk set sampling and International Classification of Diseases, Ninth Revision, Clinical Modification (ICD-9-CM) codes. The "nonexposed" group had not received scaling from 1998 to 2000.
All subjects were followed until five years after enrollment or occurrence of new-onset atrial fibrillation, as defined by hospital discharge diagnosis or confirmed more than twice in an outpatient setting.
The researchers found that the group that had regular dental scaling also had a lower occurrence rate of new-onset AF (2.2% versus 3%, p = 0.017). After further adjustment for age, sex, and other comorbidities, dental scaling was associated with a reduced risk of AF (hazard ratio = 0.671, p = 0.002).
The researchers also found that more frequent dental scaling visits led to further reduced risk. Patients who had received dental scaling twice a year over a three-year period had a hazard ratio of 0.340 (p < 0.001).
"The present study suggests that the risk of AF can be reduced through dental scaling," the study authors concluded. "Given the high prevalence of periodontal diseases in the population, improvement of oral hygiene through dental scaling may be a simple and effective way to decrease the inflammatory burden and prevent AF."
Related research
Other studies have linked systemic inflammation with the onset and perpetuation of atrial fibrillation (Journal of the American College of Cardiology, November 20, 2007, Vol. 50:21, pp. 2021-2028). And animal (dog) studies have shown an increased susceptibility for atrial fibrillation among subjects with periodontitis (Journal of Electrocardiolology, July/August 2010, Vol. 43:4, pp. 359-366). Large human studies have also linked poor oral hygiene and edentulousness to increased risk of cardiovascular events, particularly death by stroke (PLoS One, 2012, Vol. 7:2, e30797).
However, researchers continue to explore whether the data merely correlates or if a causal relationship exists. Last year, the American Heart Association issued a statement that periodontal disease has not been proved to cause atherosclerotic heart disease or stroke, and that treating periodontitis has not been proved to prevent heart disease or stroke. However, many researchers contend that while no causal link has been quantitatively established, the role of inflammation in both periodontitis and heart disease suggests an association.
"Poor oral hygiene is the major cause of periodontal disease, which has been found to be a potential risk factor for coronary heart disease, ischemic stroke, and peripheral vascular disease," the current study authors wrote. "Systemic inflammation could represent the underlying mechanism that links oral health and cardiovascular disease."
They acknowledged, however, that their current study had limitations.
"We presumed that the improvement of oral hygiene through dental scaling may decrease the inflammatory burdens and prevent patients from AF," they wrote. "However, a further prospective trial is necessary to confirm our findings and prove this speculation."