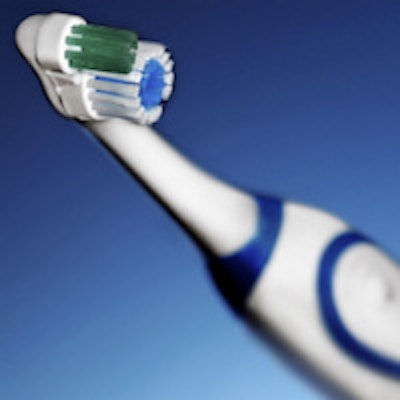 The patient in front of you has quite a bit of calculus built up and admits to frequently forgetting to brush for a full two minutes. How do you know if your patient will benefit from using a power toothbrush?
The ADA emphasizes that the keys to excellent oral hygiene are regular visits to the dental office, flossing, and brushing for two minutes, two times per day using fluoridated toothpaste. However, a rechargeable toothbrush, with reminders, timers, and positive reinforcement, may help users perfect their oral hygiene routine.
"The American public needs to know that maintaining proper oral hygiene can be extremely inexpensive, and all it really requires is a manual toothbrush, floss, and fluoridated toothpaste," said Kim Harms, DDS, an ADA spokesperson, in an interview with DrBicuspid.com. "However, there are people who love power toothbrushes, and, for heaven's sake, if you're going to brush better and more efficiently with a power toothbrush, and you're willing to pay the additional money to do that, that's a wonderful thing."
Where power toothbrushes excel
Higher-end premium toothbrushes, sometimes called power, electric, or rechargeable brushes, have additional features that help users perfect their daily toothbrushing routine. For instance, many brushes have timers, helping users to brush for a full two minutes each time, as well as alerts letting them know when to change sides or focus on their gums.
"If you're going to brush better and more efficiently with a power toothbrush, and you're willing to pay the additional money to do that, that's a wonderful thing."
— Dr. Kim Harms, ADA spokesperson
Newer power toothbrushes also include game-like or reward-based features to encourage better brushing habits. The Philips Sonicare for Kids toothbrush has Sparky, a "training partner" that helps kids learn better brushing technique, and also rewards them for a job well done.
In addition, Oral-B has an app that pairs with the company's SmartSeries Bluetooth-enabled electric toothbrushes. The app provides stickers and badges that encourage positive oral hygiene behaviors, similar to how the Fitbit app provides incentives when users reach their goals.
Yet for all their bells and whistles, premium power toothbrushes only represent about 3% of all toothbrushes in North America households, according to Crest and Oral-B spokesperson Kristopher Parlett. And power toothbrushes, including ones that are battery-powered, only account for 10% of toothbrushes used in North America.
"I don't know if it's a cultural thing. Obviously, that's something we want to figure out," he said. "There's a higher penetration level in Europe, specifically in Germany and the U.K."
For toothbrush manufacturers, the low adoption rate is puzzling. Once users switch to a power toothbrush from a manual brush, they rarely go back, often citing a better clean. Many people also will buy the latest technological gadgets for other areas of their life, but are hesitant to spend the same money buying a product for their health.
"If you're staying up-to-date on the latest computer or phone technology, why not invest in technology that will positively transform your health?" asked Jennifer Lalli, team lead for Philips Oral Healthcare Dental Professional.
Demonstrating the importance of oral health to consumers can be a challenge, Parlett explained.
"Our constant challenge is to reframe the conversation for patients -- to put their oral care into perspective, whether you're talking about the systemic link or if you're a diabetes patient and more prone to oral care issues," he said.
Becoming a toothbrushing coach
Although few, if any, research studies have taken into account some of the newer toothbrush features, such as position detection technology to provide brushing feedback, prior studies investigating the potential increased benefit of power toothbrushes have mixed results. Researchers have noted that if someone is already taking the time and care to brush properly with a manual brush, the advantages of a power brush are minimal.
ADA spokesperson Dr. Harms emphasized that power brushes can be helpful, especially when a patient has a large amount of calculus buildup or has a condition, such as arthritis, that makes proper brushing more difficult. But she stressed that they aren't mandatory.
"It would really be a disservice to make patients believe that oral hygiene is an expensive thing to maintain. It's not. Anybody can do it," she said. "Everything that power brushes have got available to help you, you can do it on your own. The question is, really, are you going to do it on your own? That's what you've got to ask. As a dentist and a patient myself, I find ... sometimes I need additional things to help me."
And that's why it is so important for dental professionals to step in as oral hygiene coaches and provide positive discussion about improving dental health. To help facilitate this patient-professional conversation, Oral-B launched a program called Test Drive that enables patients to try a power toothbrush at the dental office.
"You give the patient not only the opportunity to try it, but they're trying this toothbrush in an environment where they have their dental professional, their oral care coach, right beside them," Parlett said. "Having that experiential trial with a coach at hand takes the confidence level to a new high with the patient."
While Test Drive is one way to spark a conversation about proper toothbrushing habits, Dr. Harms noted there are other resources to facilitate a conversation, including the website 2min2x.org, which provides free information for patients, especially families with kids, about how to properly brush teeth.
"It's really between the patient and the dental professional," Dr. Harms said. "It all comes down to that really -- talking about what is right for the individual, asking about motivation, and finding what the patient wants and what will work for them."