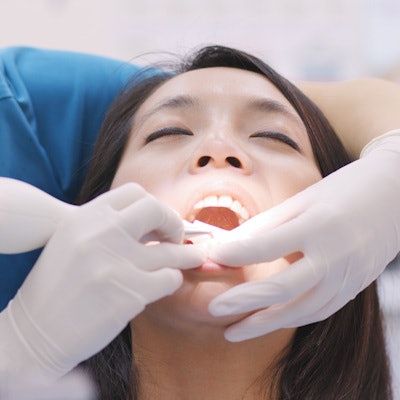 Organized dentistry should develop formal guidelines that address the management of periodontal patients with continued inflammation after scaling and root planing, according to a commentary published on January 21 in the Journal of the American Dental Association.
Patients with persistent inflammation after initial periodontal treatment need to undergo reevaluations and may require more advanced therapy, the authors wrote.
"We urge the American Dental Association and others in organized dentistry to formulate clinical practice guidelines for management and treatment of the periodontal patient who has continued inflammation after SRP (scaling and root planing)," wrote the authors, led by Dr. Stephen Harrel of the department of periodontics at the Texas A&M College of Dentistry in Dallas.
Frequently, scaling and root planing, which is often the first treatment for periodontal disease, do not eliminate inflammation. Patients free of inflammation -- a lack of bleeding on probing and no visible inflammation -- at about six weeks post-treatment can be placed on periodontal maintenance schedules. Maintenance schedules are "unacceptable" for patients with continued inflammation, the authors wrote.
Since the state of periodontal therapy falls short for many patients, clinicians must do what is clinically and ethically necessary for patients who don't respond to initial periodontal therapy. This means clinicians must inform patients of advanced therapies, the risks of not undergoing these higher-level therapies, and that repeated scaling and root planing rarely halt periodontal destruction from progressing, they wrote.
In 2022, an editorial published in the Journal of the American Dental Association recommended that guidelines be created to inform clinical decision-making for patients who do not respond to nonsurgical periodontal therapy. Currently, the only guideline for periodontal care, which was published by the ADA, relates to the nonsurgical treatment of gum disease. The guidelines state that not every patient with chronic periodontitis responds adequately to nonsurgical treatment with or without adjuncts, and "the practitioner should consider surgical or other more complex interventions or referral to a specialist when appropriate," they wrote.
To date, multiple articles, which are based on existing research and clinical experience, that outline decision points and clinical advice have been published. The literature aims to help clinicians make informed determinations based on patients' responses to therapy, however, they don't represent formal guidelines for clinical decisions, the commentary states.
Therefore, guidelines should be drafted that call for detailed reevaluations of patients' initial periodontal therapy and provide advice for subsequent therapy based on clinical findings determined at their reexaminations, they wrote.
"Formal guidelines need to come from organized dentistry, using in-depth analysis of the literature and incorporating many other factors," Harrel and colleagues wrote.