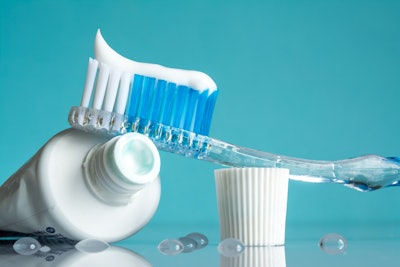 Hydroxyapatite toothpaste is a safe, effective alternative to conventional fluoride toothpaste, according to research published on July 18 in Frontiers in Public Health.
A team led by Elzbieta Paszynska, PhD, from Poznan University in Poland reported that nearly 90% of patients in randomized groups -- one using hydroxyapatite toothpaste and the other using fluoride toothpaste -- had no new cavities after 18 months.
While fluoride toothpaste is effective in preventing dental caries, there is concern about its use by children who may accidentally swallow it. While using a tiny dose of fluoride toothpaste can prevent accidental health issues, it also reduces toothbrushing efficiency.
The Paszynska team wanted to ascertain whether toothpaste containing hydroxyapatite could help dental patients with specific dental conditions. It recruited 189 adults ranging in age from 18 to 45 years old for a double-blind, randomized clinical study (171 completed the trial). The patients were separated into two groups: one using fluoride toothpaste and the other using hydroxyapatite toothpaste.
All patients had at least 10 teeth without cavities, were willing to use an electric toothbrush, and had no preexisting tooth problems in need of treatment. Neither patients nor examiners knew which toothpaste a given patient was using, and patients used no other oral care products. They were also asked to brush their teeth at the same time every day -- twice a day, after meals, for three minutes each time. Participants were not asked to change their diets.
Every six months, the patients came in for a follow-up examination and to receive a new supply of toothpaste. Along with nearly 90% of patients in both groups presenting with no new cavities, the researchers found no statistical difference in toothpaste efficacy, meaning that both kinds of toothpaste worked equally well.
Read the complete research article.