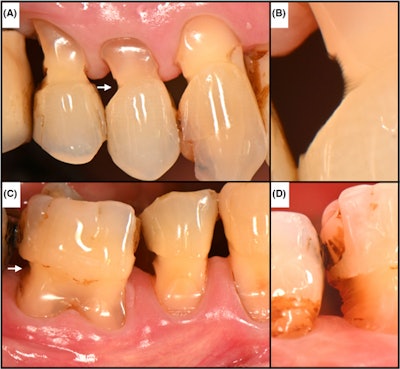 Cleaning your teeth with interdental brushes in combination with toothpaste may cause approximal dentin abrasion, according to an in vitro study that was recently published in the International Journal of Dental Hygiene.
However, interdental brushing with chlorhexidine gel or a povidone-iodine gargle showed no measurable dentin loss, the authors wrote. It is believed to be the first study that shows that when toothpastes are used with interdental brushes, they have the potential to cause root damage, the authors wrote.
"Interdental brushes should not be used neither under direct toothpaste application nor without rinsing immediately after brushing, since remaining abrasives of the toothpaste in the saliva may lead to accentuated abrasion, wrote the authors, led by Dr. Patrick Schmidlin of the Clinic of Conservative and Preventive Dentistry at the University of Zurich in Switzerland (Int J Dent Hyg, September 3, 2023).
Recently, patients with bizarre proximal and lingual-cervical lesions caused by unusual interdental cleaning habits have made their use a relevant part of daily dental practice. For example, a 66-year-old healthy, nonsmoking man under periodontal therapy presented at the dental office with buccal and interproximal tooth substance loss. The tooth loss was caused by regular interdental brushing with medium- to high-abrasive toothpastes three times daily.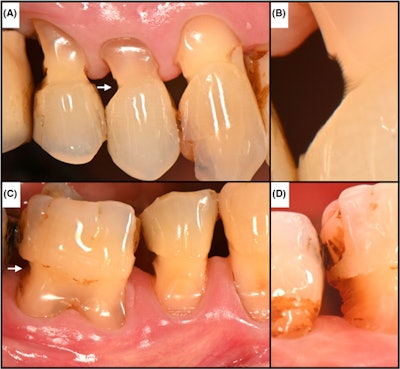 To evaluate dentin abrasion associated with the use of interdental brushes with various toothpastes and gels, a novel in vitro toothbrushing model was developed. Using dentin samples, the model imitated a simplified interdental space with an interdental brush. Brushing, which was 7,200 strokes per hour, was performed with artificial saliva, a povidone-iodine solution, slurries of chlorhexidine and fluoride gels, and toothpastes with relative dentin abrasiveness values ranging from 29 to 100, according to the study.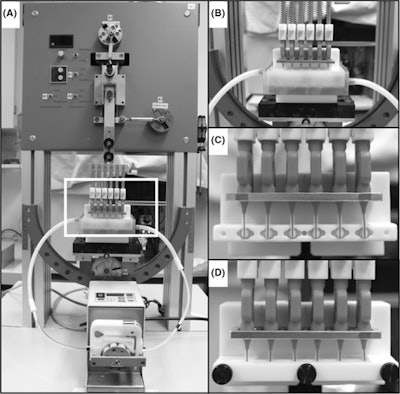 Though chlorhexidine and povidone-iodine showed no measurable dentin loss, toothpastes resulted in measurable linear surface damage in relation to relative dentin abrasiveness values and ranged from 12.6 μm to 26.5 μm (p < 0.001). The higher the dentin abrasiveness values were in toothpaste, the higher the surface damage was, the authors wrote. Abrasive ingredients in toothpastes can affect the roughness of interdental brushes, which may be linked to their intrinsic relative dentin abrasiveness values, they wrote.
The model had limitations. Since no remineralization phases were included in the study, it represents a very basic, worst-case scenario, the authors wrote. Since the removal of eroded dentin depends on the hardness and stiffness of a brush and the relative dentin abrasivity value of toothpaste, these factors should be addressed for interdental brush designs in future studies, they wrote.
Therefore, patients should be carefully instructed on the use of interdental cleaning products, Schmidlin et al wrote.
"Any over- and misuse, which applies especially to the combination with abrasive toothpastes, should be avoided," they wrote.