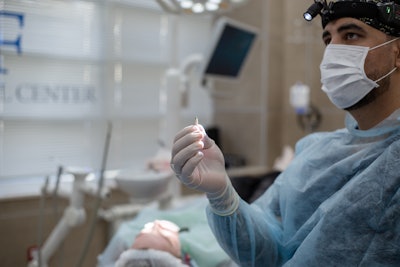 Infections rates appear to be relatively low for patients who underwent bone augmentation procedures prior to dental implant treatment regardless of the type, dose, and duration of prophylactic antibiotics. The study was published on October 27 in BMC Oral Health.
Over time, fewer clinicians prescribed antibiotics for patients undergoing these procedures, but oral surgeons who continued to prescribe did so for longer periods of time, the authors wrote.
"Since the development of antibiotic resistance is considered the greatest threat to modern health care any effort to reduce unnecessary utilization, such as identifying areas of improvement, is of outmost importance," wrote the authors, led by Dr. Bodil Lund of the department of dental medicine, division of orofacial diagnostics and surgery, at the Karolinska Institute in Huddinge, Sweden.
Globally, many clinicians routinely prescribe antibiotics as a preventive measure for patients undergoing dental implant placement surgery. Guidelines for antibiotic prophylaxis vary wildly worldwide. In 2012, Sweden released new guidelines recommending that patients having implant surgery receive one dose of 2 g of amoxicillin, or 600 mg of clindamycin if the patient has an allergy, one hour before the procedure. The new recommendations were created to dissuade the use of prolonged preventive antibiotics, according to the study.
To investigate prescribing patterns and the effect of antibiotic prophylaxis use on the occurrence of postoperative infection after bone augmentation procedures, 400 patient charts were reviewed. Of the charts, 200 were from January 2010 to December 2011, and the other 200 were from January 2014 through December 2015. All the patients underwent intraoral bone augmentation procedures due to insufficient bone volume for immediate or later placement of dental implants, the authors wrote.
The total rate of postoperative infection was 5.5%, or 22 patients. Of those with infections, nine patients were from the 2010-2011 and 13 patients were from 2014-2015. There was no difference between the two time periods for developing an infection (p = 0.382), they wrote.
Antibiotic prescribing habits changed during the two periods but differed from Sweden's guidelines. The number of patients treated with preventive antibiotics in a single dose of 2 g amoxicillin was low and decreasing. In 2010-2011, 50 patients (25%) were given the single dose, and 37 patients (18.5%) were given the recommended dose in 2014-2015. However, the administration of a three- to seven-day antibiotic prescription rose significantly from 25.5% in 2010-2011 to 35% in 2014-2015, the authors wrote.
The study had limitations, including its retrospective design, the authors acknowledged.
"The results indicate a need for educational efforts and strategies for implementation of antibiotic prudence and awareness among surgeons performing bone augmentation procedures," Lund et al wrote.