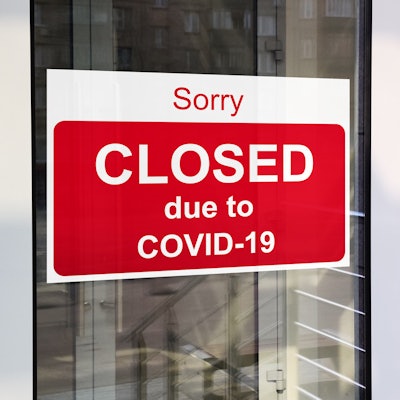 A dental practice in South Carolina may remain closed through June 17 after four of its employees tested positive for COVID-19. Two other employees who have not yet received their results are also suspected of having the virus.
Whole Life Dental in Greenwood, SC, released a statement on June 10 notifying the public of the outbreak and the closure. State infection tracers also have been notified, according to Evelyn Harmon, the practice's human resources director and the wife of practice clinician Ben Dunlap, DMD.
One of the employees who tested positive is a hygienist, and the others work in the front office area, so exposure to patients was "negligible," Harmon said.
Most patients have been appreciative of the practice's transparency, while a few have responded with worry. She encouraged them to get tested if they were concerned, she said.
"We have gone above and beyond with our COVID-19 protocols," Harmon said. "We are confident and secure [about] the protocols we have in place."
If the practice opens sometime this week, it will have a limited schedule and only provide emergency or urgent care. It won't have enough staff at that time to do more, she said.
All staff members were tested immediately. Staff members must present negative test results before they can return. Additionally, Whole Life Dental's staff and patient contact area also underwent deep cleaning and sterilization.
"We didn't take this lightly," Harmon explained. "We are the only Medicaid provider in the county. The safety of our community is important to us."
How it unfolded
Referring to the employees as "family," Harmon believes they exposed themselves to the virus by going on a girls' trip to the beach and then piling into a car together to get lunch on another day. Others at the practice who didn't go on these excursions have tested negative, she said.
"They were not mindful, but hopefully they learned from their mistakes," she said.
During the week of June 8, two employees became ill and tested positive for strep throat after these events. Harmon encouraged them to get tested for COVID-19 as well. While those two were out sick, the practice celebrated an employee's birthday with a cake. Another employee declined the cake, saying she couldn't taste anything, Harmon said.
"I knew that was a sign of COVID-19," she said. "We closed. Told her to get tested, everyone to get tested."
Support and swift recoveries
Despite the two-week money loss, there is no ill will toward her staff. Harmon is sympathetic with their desire to get out and experience some normalcy. The practice wants its team members back and healthy and to keep patients safe.
"We lost two weeks of money, but that's not the most important thing. We support our staff and treat people like people," Harmon said.
No action will reportedly be taken against the employees. Whole Life Dental has a policy about personal protective equipment (PPE) to ensure everyone's safety.
"Not following PPE protocol is a fireable offense in our practice," Harmon said.
No business can control what their employees do outside the workplace, she added.
"I don't know if any business owner can have a policy that tells you what you can't do, unless it's illegal, outside the workplace," she said.
Things happen despite being proactive
The outbreak was unexpected because the practice has taken numerous steps to help control infection, including instituting strict disinfection and PPE policies since March. At the end of May, it closed for renovations to make the practice even safer. Ventilation was added to every operatory, acrylic glass dividers were installed, and a new employee bathroom and storage closet/lab were added.
The practice is also dedicated to using all PPE, including but not limited to N95 masks, face shields, bonnets, and full gowns. Other practices haven't taken nearly the same measures that Whole Life did, Harmon said.
Patients also must call before entering the waiting room. When they arrive at the door, their temperatures are taken and they are asked COVID-19 screening questions. Any person with a temperature that reads more than 100° or who shows COVID-19 symptoms is not treated and is told to get tested, and the appointment is rescheduled for 14 days later. Finally, appointments that may require ultrasonic scalers are rescheduled.
"When we closed for renovations, everyone assumed we closed for a COVID-19 outbreak," she said. "We were renovating. Now, we're closed [due to the novel coronavirus]."