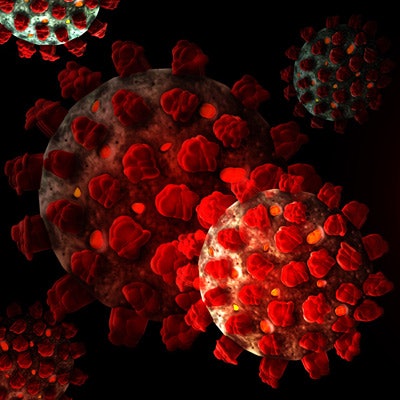 Povidone-iodine (PVP-I) products, including a gargle and mouthwash and a throat spray, can kill 99.99% of the SARS-CoV-2 virus within 30 seconds, according to a brief report published on July 8 in Infectious Diseases and Therapy.
Dental teams may find this news encouraging because dentists, hygienists, and assistants are considered some of the most at-risk individuals for exposure to SARS-CoV-2, the virus that causes COVID-19, due to aerosolization and having to work nearly eye-to-eye with patients.
"The use of PVP-I products can augment health and hygiene measures to reduce the spread of COVID-19 in the community," wrote the authors, led by Danielle Anderson, PhD, of the Programme in Emerging Infectious Diseases at Duke-National University of Singapore (NUS) Medical School in Singapore.
With no vaccine or cure for COVID-19, scientists are rushing to find ways to curb infections, which are breaking daily records in some states in the U.S. Povidone-iodine is a water-soluble complex of the carrier molecule povidone and iodine, which is known to kill bacteria, fungi, and viruses. Medical professionals already use these products to disinfect their hands before and after surgery and to kill any germs on patients' skin. They are readily available, and evidence has supported their effectiveness against other viruses, including SARS-CoV and MERS-CoV.
These factors, including the fact that PVP-I mouthwash is included in the World Health Organization's blueprint for experimental therapies against COVID-19, led the researchers to investigate its direct antiviral activity against SARS-CoV-2. If proved effective, it could be another infection control tool available to dentists. The ADA recommends that dentists have patients rinse with 1% hydrogen peroxide before they perform procedures on them. Other evidence has suggested that rinsing with chlorhexidine reduces the salivary load of the novel coronavirus.
In the current study, viral kill time assays were used to assess the virucidal activity of Betadine, a brand name povidone-iodine antiseptic product, against SARS-CoV-2. Mundipharma Singapore provided the products and funded the study.
Gargle and mouthwash that contained 1% povidone-iodine and throat spray that contained 0.45% killed 99.99% of SARS-CoV-2 within 30 seconds of contact, according to the authors.
Antiseptic solution that contained 10% povidone-iodine and skin cleanser that contained 7.5% also killed the virus within 30 seconds, the authors wrote.
The findings may be promising; however, the brief report did not include any evidence of the mouthwash or throat spray being used in animals or humans.
Despite this, the "broad-spectrum antimicrobial and rapid virucidal activity of PVP-I products against SARS-CoV-2 suggests its importance in infection control," they wrote.