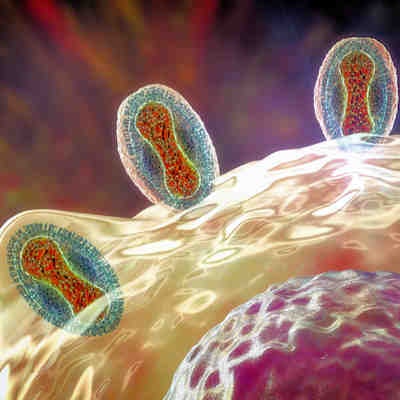 Clinicians should be aware of the signs and symptoms of mpox, since some of the most prevalent lesions associated with the virus may be first observed in the maxillofacial region, according to a letter to the editor published July 17 in Oral Surgery.
In May, the U.S. detected its first case of mpox, a rare disease of unknown origin that spreads through close contact with an infected person, and since then, cases have been surging. Patients with cutaneous rashes and macules, papules, pustules, and vesicles should be referred to infectious disease departments to prevent clinicians from possibly exposing themselves and others to the virus, the authors wrote.
"Oral surgeons and clinicians should be aware of the public health risk of a monkeypox outbreak, even in non-endemic countries," wrote the authors, led by Dr. Samuel Macedo Costa, PhD, a researcher with the oral and maxillofacial surgery service at the University of São Paulo in Brazil.
In May, the World Health Organization (WHO) considered mpox an outbreak, because it began spreading in nonendemic countries such as the U.S., Canada, and Europe. As of July 18, there have been 1,972 cases of mpox reported in the U.S., according to the U.S. Centers for Disease Control and Prevention (CDC).
Currently, cases have been reported in every state except Vermont, Maine, Alaska, Mississippi, Montana, Wyoming, and North Dakota. The highest number of cases have been in New York, with 521, and in California, which has 267, according to the CDC.
Before the 2022 outbreak, mpox had been reported in people in several western and central African countries. Almost all cases in people outside of Africa were associated with international travel to countries where the disease occurs or through imported animals, according to the CDC.
Mpox spreads from one person to another through direct contact with its infectious rash, scabs, or body fluids. It also spreads via respiratory secretions during prolonged face-to-face contact or intimate physical contact, as well as touching clothing or other items that previously touched the infectious rash or body fluids.
Transmission can occur from the time symptoms start until the rash has healed completely and a new layer of skin has formed. Complications from mpox can include secondary infections, including encephalitis and sepsis, according to the WHO.
As cases rise, clinicians should be familiar with the most common symptoms of mpox, which include headache, fever, swollen lymph nodes, as well as muscle aches, pains, and weakness. The most common maxillofacial lesions associated with mpox are papulopustular rashes with crust and scar formation, which may appear as increasing, necrotizing dermatitis with distinct vesiculopustular, desquamating, and maculopapular stages, according to the letter.
Additionally, mpox may be associated with other diseases, including herpes zoster, herpes simplex, measles, Zika, dengue, and syphilis. Small, fragile blisters on the oral soft tissue, painful oral ulcers, multiple scatter lesions on the skin inside the mouth and lips, facial rashes and severe pain, petechial lesions on the hard palate, and temporomandibular joint stiffness may suggest subclinical immunosuppression that is associated with a mpox infection, the authors wrote.
Since some of the most common lesions may develop in the maxillofacial area, clinicians may be exposed to patients at risk for mpox. Knowing the signs and symptoms will help ensure they get the treatment they need and further prevent the spread of the virus, they wrote.
"Monkeypox remains a diagnostic challenge for clinicians, especially in non-endemic countries, and the associated diseases could present symptoms that would indicate the presence of a monkeypox-associated infection," Costa and his colleague wrote.