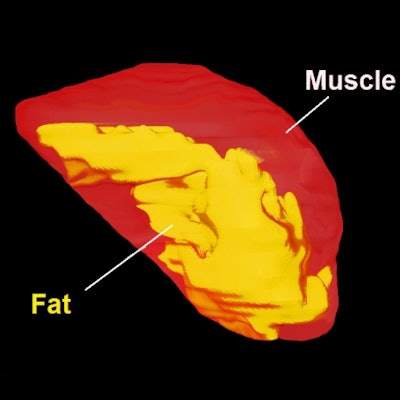 Reducing fat tongue may help improve obstructive sleep apnea symptoms, according to a new study published January 10 in the American Journal of Respiratory and Critical Care Medicine.
Researchers used magnetic resonance imaging (MRI) to measure the effect of weight loss on the upper airway in obese patients, showing that a reduction in tongue fat lessened the severity of obstructive sleep apnea (OSA) symptoms.
"Tongue fat is decreased with weight loss and strongly associated with reductions in the apnea-hypopnea index," wrote the authors, led by Stephen Wang of the University of Pennsylvania Center for Sleep & Circadian Neurobiology in Philadelphia.
About 22 million Americans have sleep apnea, which is marked by loud snoring and can be a potentially fatal health condition. In addition to disrupting sleep, the condition can increase a person's risk for high blood pressure and stroke. Obesity is the primary risk factor for developing sleep apnea, but a recessed jaw or large tonsils also can cause sleep apnea. Research has shown that losing weight remains an effective treatment for sleep apnea, though it's not exactly clear why. Until now, most researchers haven't focused on reducing tongue fat as a treatment for apnea.
Based on a 2014 study that showed that obese patients with sleep apnea had significantly larger tongues and a higher percentage of tongue fat, the researchers of the current study sought to determine whether a reduction in tongue fat improved apnea symptoms.
Their study included 67 participants with mild to severe obstructive sleep apnea who were obese, with a body mass indexes of 30 or higher. The participants lost 10% of their body weight over six months through changes in diet or weight loss surgery. Overall, their sleep apnea scores improved by about 30% after their weight loss.
Before and after they lost weight, the patients underwent MRI scans of their pharynx and abdomen. The researchers then used the scans to determine which structures improved sleep apnea symptoms. A reduction in tongue fat volume was the primary link between weight loss and sleep apnea improvement, they found.
Though decreasing tongue fat looks like a promising therapeutic tool, the study had some limitations. The researchers were able to show changes to the upper airway soft tissues and abdominal fat across different treatments and weight loss amounts, but six months may not be enough time for all structures to show meaningful changes, the authors noted. Therefore, longer studies should be conducted.
Additionally, "new treatments that reduce tongue fat should be considered for patients with OSA," they stated.