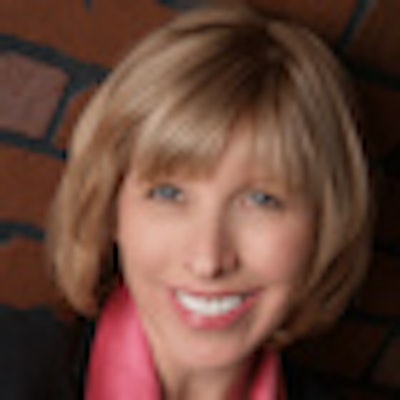 DrBicuspid.com is pleased to present the next installment of Leaders in Dentistry, a series of interviews with researchers, practitioners, and opinion leaders who are influencing the practice of dentistry.
We spoke with Pamela McClain, DDS, current president of the American Academy of Periodontology (AAP) and a private practice periodontist in Aurora, CO, who also serves as a clinical assistant professor at the University of Colorado School of Dentistry. She received her Bachelor of Science degree in dental hygiene from the University of Colorado in 1980, her Doctor of Dental Surgery degree from the University of Colorado in 1983, and completed her postgraduate work in periodontology at the University of California, San Francisco in 1987.
Dr. McClain, whose reign as AAP president ends next month, shared her thoughts on the relationship between periodontal disease and other diseases, the need to better educate patients about their oral health, and other current issues in dentistry.
DrBicuspid: What led you to become a dentist, and to specialize in periodontology?
Dr. McClain: There was a definite influence from my father who is a periodontist. In fact, he was president of the AAP 25 years ago. Growing up in a family of six children, we spent considerable time at the pediatrician's office. I loved my pediatrician and at age 10, decided that was what I wanted to do as well. I began my undergraduate studies with a pre-med major but by my second year I was no longer certain about medicine as a career path. My father encouraged me to consider dental hygiene school while I was still deciding on medicine. I took his advice and to my surprise I loved the profession.
After completing my bachelor's degree in dental hygiene I began working with my father who was a pioneer in bone grafting. Watching him save teeth that many would have extracted inspired me to pursue dental school. Although I enjoyed all the different departments, by the end of my junior year I realized that I was more passionate about periodontics in part due to its similarity to medicine. The biologic component became even more apparent in my graduate training and now we see more integration of medicine in periodontics today. There is an increasing amount of research that links inflammation to many chronic diseases and periodontitis is one of the most common inflammatory diseases present.
How has being a hygienist influenced you as a dentist?
Starting my career as a dental hygienist gave me the passion for dentistry and especially in improving patients' health. Having spent three years treating patients as a dental hygienist facilitated my patient management skills in dental school. As a hygienist I had time to really engage patients in educating them on the importance of home care. This background continues to enhance my abilities as a periodontist in many ways. As a dentist, I find I have less time to spend with patients on their home care, but I still find myself falling back into that mode of education I used as a hygienist. The hygienist in me comes out all the time.
What was your reaction to the recent Journal of Dental Research study that found that adult periodontitis rates in the U.S. have historically been underreported by as much as 50%?
The previous studies that assessed periodontal disease prevalence with the U.S. Centers for Disease Control and Prevention (CDC) National Health and Nutrition Examination Survey (NHANES) data used partial mouth probing. Those earlier surveys used two randomly selected quadrants and two sites per tooth while the current NHANES used a full-mouth probing of six sites per tooth. Research has shown that periodontal disease can be very site-specific, so unless you look at the entire mouth and assess each tooth, you could miss severe disease. Previous surveys showed that 20%-29% of the U.S. adult population had some form of periodontal disease, while the current data for periodontitis is 47.2%.
I would anticipate that most periodontists are not surprised to hear that almost 50% of the adult population exhibits mild, moderate or severe periodontitis. Unless a comprehensive periodontal evaluation is performed it's impossible to obtain an accurate picture of a patient's periodontal health.
We've been hearing for a few years about the growing body of research linking oral health with various chronic and systemic diseases. What is your position on this?
There is indeed a large body of research that links periodontal disease to a number of other chronic inflammatory systemic diseases. Periodontal disease can adversely affect an individual with diabetes and the diabetic status can make it difficult to manage the periodontal disease.
This past April the American Heart Association (AHA) issued a press release on a study that linked heart disease to periodontal disease. Unfortunately some of the information in the press release was misleading regarding the association between the two diseases. The study did confirm an association between heart disease and periodontal disease independent of all other risk factors such as smoking and diabetes and confirmed what many studies have shown regarding this link.
Since periodontal disease and heart disease are multi-factorial, it would be very difficult to prove that one condition causes another. The same is true with many inflammatory diseases, even obesity. I recently read an article that implicates obesity in periodontal disease. That study found a much higher prevalence of periodontitis in obese patients. And the common link is inflammation.
More research is needed in this field, but to tell patients that oral health has nothing to do with systemic health would be a disservice. Studies have shown that inflammation in your mouth can cause an increase in systemic inflammatory markers. There is insufficient evidence to suggest that having untreated periodontal disease may cause a heart attack. But it is prudent and wise to maintain good oral health and the evidence supports the importance of that message.
What can the dental profession do to overcome the general public's poor eating and drinking habits, which have been shown to negatively influence their oral health?
It is critical that the dental profession embraces the concept of overall health and that we educate our patients about the value of healthy lifestyles. Since the hygienist typically sees the patients for intervals of cleaning and maintenance, they often times have the opportunity to educate our patients about the importance of good oral hygiene and also how diet can adversely affect oral health. For a long time the dental profession has been involved in counseling patients on smoking cessation, but we haven't spent as much time discussing dietary issues except from a caries standpoint. So where will dentistry sit in promoting healthy lifestyles? My guess is that, in the future, dentistry will be a bigger part of integrating oral and systemic health as we better understand the relationship between oral disease and other chronic diseases.
Will the growing adoption of preventive dentistry techniques and products help also?
Periodontists have always been proponents of preventive dentistry. If you prevent or manage disease early, you can avoid future problems. This requires a basic understanding of the disease processes and as a result education is critical. However once there is understanding of the problem we also need to motivate patients to own their problems and become proactive in resolving the concerns. We are in an era where more people are focusing on health and starting to take the necessary steps such as exercise and eating healthy to accomplish that goal. Now we need to ensure that oral health is part of that plan. The AAP is proud to be part of the Ad Council campaign, which focuses on prevention of dental disease in children. This program emphasizes the importance of brushing for two minutes twice daily, which can prevent pain and disease.
Several U.S. communities, including Phoenix, Portland, and Milwaukee, have been embroiled in a debate over water fluoridation this year. What is your position on fluoridation?
Fluoridation is considered one of the 10 greatest public health achievements of the 20th Century and has had the single biggest impact on oral health. It has decreased the amount of caries so dramatically that to ignore the evidence would be unfortunate. Proper fluoridation will continue to have a positive impact on the public health.
Do you support the proposed dental therapist/midlevel provider models?
The AAP has not been involved in governmental affairs but supports the ADA in ensuring that any oral healthcare provider is properly trained, to guarantee patient safety. Those of us who have been practicing dentistry for a while know that complications can occur even with "simple extractions." We have an obligation to preserve the safety of the patients we treat by making sure that the training and supervision of the therapist is adequate.
What is your proudest achievement during your time as AAP president?
This has been quite a year for the academy. Our executive director, Alice DeForest, is retiring in October after serving the academy for 26 years, and we just completed the search process of finding a new director. While Alice will be greatly missed, we are excited to have John Forbes, formerly with the American Academy of Pediatrics, join the AAP team as the new executive director.
Another project that took considerable time and effort was correcting the misinformation regarding that AHA press release. We worked very hard at the AAP to ensure that accurate information was distributed to the media and to the dental profession regarding the scientific statement.
In addition, I am very proud of the academy's collaboration with the CDC to develop the periodontal examination protocol for the 2009-2010 NHANES. This resulted in the most accurate assessment of periodontal disease in the U.S. And finally, the academy's involvement with the Ad Council campaign to promote healthy mouths is another wonderful way to remember my year as president.