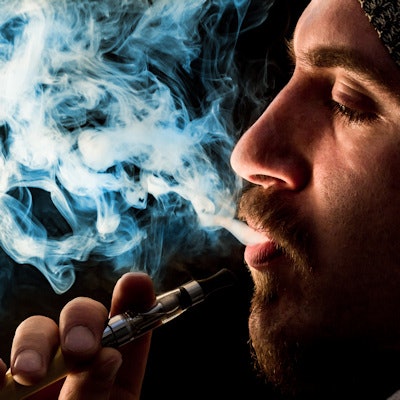 The recent outbreak of lung disease linked to vaping appears to be most prevalent in people who vaped THC-containing products obtained from informal sources, such as family, dealers, and online, according to a new report released on January 14 by the U.S. Centers for Disease Control and Prevention (CDC).
Evidence suggests that these factors play a major role in the outbreak of electronic cigarette (e-cigarette), or vaping, product use-associated lung injury (EVALI), according to the CDC.
"The high prevalence of informally sourced THC-containing products among EVALI patients reinforces current recommendations to not use THC-containing e-cigarette, or vaping, products, particularly those acquired from informal sources," wrote the authors, led by Sascha Ellington, PhD, of the CDC's National Center for Chronic Disease Prevention and Health Promotion.
The findings are based on substance use data from 1,979 patients.
Approximately 80% of patients hospitalized with vaping-related lung injuries reported using THC-containing products. About 33% of them reported exclusive use of THC-containing products, according to the report.
About half of those patients provided information about where they acquired the products. Nearly 80% of them obtained the products from informal sources, such as family, friends, dealers, or online sources.
Although most EVALI cases were linked with patients who used informally sourced, THC-containing products, 16% acquired products from commercial sources, and 6% obtained them from a mix of commercial and informal sources.
However, the CDC researchers noted that it may be difficult to determine whether a source is licensed even in those states where recreational marijuana use is legal. For example, the Bureau of Cannabis Control in California seized about 10,000 illegal vaping pens from unlicensed retailers during two days in December 2019, they wrote.
Furthermore, vitamin E acetate is strongly linked to the EVALI outbreak. Vitamin E acetate has been found in product samples and patient lung fluid samples. It has not been found in the lung fluid of people who do not have EVALI. However, evidence is insufficient to rule out the contribution of other chemicals of concern, and some patients have reported using only nicotine-containing products.
Nevertheless, the CDC findings are subject to several limitations, including patients who self-reported information about types of products used and where they were obtained, so responses may be subject to recall or social desirability bias. Also, data on product substances were missing for 24% of patients, and product sources were missing for 50% of THC-containing product users and 46% of nicotine-containing product users. Therefore, conclusions derived from these data might not be generalizable to all EVALI patients, the authors noted.
"Adults who continue to use e-cigarette, or vaping, products should carefully monitor themselves for symptoms and see a healthcare provider immediately if they develop symptoms similar to those reported in this outbreak," they wrote.