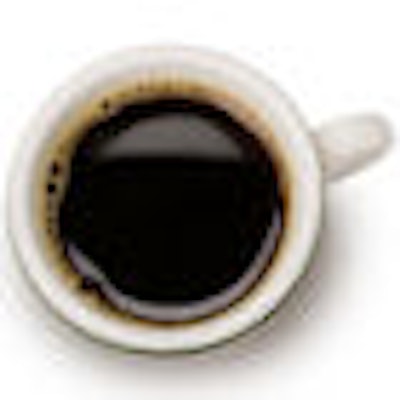 Looking to update your standard lecture on oral cancer prevention? Here's a tip: Tell your patients to drink coffee.
A Japanese study has found that people who drink at least one cup of coffee a day appear to be at a lower risk for oral cancer compared to people who don't drink coffee (American Journal of Epidemiology, December 15, 2008, Vol. 168:12, pp. 1425-1432).
Researchers collected data from the population-based Miyagi Cohort Study that looked at people's dietary habits, including coffee consumption -- specifically, the frequency of consumption. Subjects were also asked about personal and family history of disease, physical status, drinking and smoking habits, occupational status, and educational status.
More than 30,000 subjects between the ages of 40 and 64 were followed over a 13-year period. A total of 157 cases of oral, pharyngeal, or esophageal cancer were recorded.
Researchers noted that people who drank more than one cup of coffee per day appeared to have half the risk of developing these cancers compared to those who did not drink coffee at all.
"We found a significant inverse association between coffee consumption and the combined incidence risk of oral, pharyngeal, and esophageal cancers for both men and women," the authors wrote.
This trend was consistent regardless of sex or the site of the cancers, and was even observed in high-risk populations such as smokers and drinkers.
Although previous studies have examined this link, the results have been inconsistent.
"Most previous studies which indicated coffee as a preventive factor for these cancers were case-control studies," stated study co-author Dr. Toru Naganuma from the Tohoku University School of Medicine in an e-mail interview with DrBicuspid.com. "The most major strength of our study is that this was the first population-based prospective cohort study to focus on this issue and provide the evidence."
So what mechanisms in coffee may help prevent cancer?
"Several biological studies implied that some of the coffee constituents (e.g., caffeine, cafestol, kahweol) have anticarcinogenic effects," Dr. Naganuma explained. "Caffeine has been suggested to suppress the progression of tumor cells, and cafestol and kahweol may inhibit DNA damage of normal epithelium cells of the oral cavity, pharynx, and esophagus."
How can this information be used to help fight these cancers?
The most established risk factors of these cancers are heavy drinking and smoking, and the first and best effort for dentists in their everyday practice to prevent these cancers is to encourage their patients to refrain from excessive smoking and drinking, Dr. Naganuma stated.
Although this study is not enough to fully establish the relationship between coffee drinking and lower risk of oral cancer, it could help prompt further prospective observational studies and clinical trials, he added.
The study appears to have been conducted without bias, noted Sol Silverman, D.D.S., a professor of oral medicine at the University of California, San Francisco School of Dentistry.
"There is always some limitation on questionnaires that are self-administered," Dr. Silverman said. "However, in this Japanese population during this period of time, it can be concluded that there might be some protective effect of coffee intake and a lowered risk of oropharyngeal cancer."
However, some other studies have conflicting results, and more investigations are warranted, Dr. Silverman concluded.
The results of this study could have pharmacological implications, especially for preventing recurrences of these cancers, Dr. Naganuma noted.