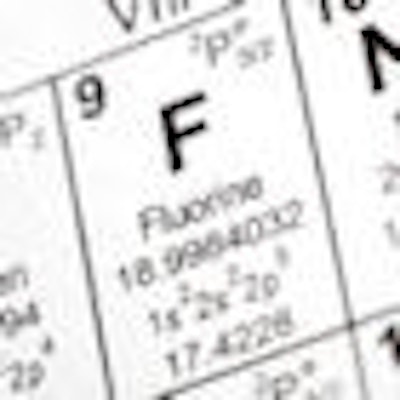 There is no significant association between bone fluoride levels and osteosarcoma risk, according to a new study in the Journal of Dental Research (July 28, 2011).
There has been ongoing controversy as to whether there is a link between bone fluoride levels and osteosarcoma. An inconclusive animal study conducted 20 years ago first raised the question of an association between fluoride and osteosarcoma. Since that time, other studies have examined the issue; however, this new study, using actual bone to measure fluoride levels in individuals with and without osteosarcoma, is considered by researchers to be the best science to date because a more accurate and reliable scientific method was used to measure exposure from all sources of fluoride, according to Raymond Gist, DDS, president of the ADA.
"This new study adds to an already strong base of scientific evidence that fluoride is safe and effective at preventing cavities," Dr. Gist stated in a press release.
A team of researchers from Harvard University, the Medical College of Georgia and the National Cancer Institute analyzed hundreds of bone samples from nine hospitals over an eight-year period from patients with osteosarcoma and a control group to measure fluoride levels in the bone. The National Cancer Institute (NCI) approved the design of the study, which was led by Chester Douglass, DMD, PhD, of Harvard University, and funding for the research was provided by the NCI, the National Institute of Environmental Health Sciences and the National Institute of Dental and Craniofacial Research.
The study sample included incident cases of primary osteosarcoma and a control group of patients with newly diagnosed malignant bone tumors. Study participants were identified by physicians in the orthopedic departments from nine hospitals across the U.S. between 1993 and 2000. Specimens of tumor-adjacent bone and iliac crest bone were analyzed for fluoride content.
The researchers used logistic regression of the incident cases of osteosarcoma (n = 137) and tumor controls (n = 51) -- adjusting for age, sex, and potential confounders of osteosarcoma -- was used to estimate odds ratios and 95% confidence intervals (CI).
They found no significant difference in bone fluoride levels between cases and controls. The odds ratio, adjusted for age, gender, and history of broken bones, was 1.33 (95% CI: 0.56-3.15).
"The controversy over whether there is an association between fluoride and risk for osteosarcoma has existed since an inconclusive animal study 20 years ago," said Helen Whelton, vice president of the International Association for Dental Research, which publishes the Journal of Dental Research. "Numerous human descriptive and case-control studies have attempted to address the controversy, but this study of using actual bone fluoride concentrations as a direct indicator of fluoride exposure represents our best science to date and shows no association between fluoride in bone and osteosarcoma risk."
Shelly Gehshan, director of the Pew Children's Dental Campaign, agreed.
"I would say that this study can put peoples' fears to rest because it shows no correlation between fluoride and osteosarcoma," she told DrBicuspid.com. "In 2006, the National Research Council said that if fluoride might be linked to cancer, osteosarcoma would be the most plausible form of cancer. But now that's been ruled out. We can now say that fluoride does not cause any kind of cancer."
This was a very thorough and rigorous study done with three divisions of the National Institutes of Health, she added.
"Some people have asserted a link between fluoride and cancer, but prior to this there was not much of an evidence basis, and now we know for sure there isn't one," Gehshan said. "The Pew Children's dental campaign focuses on policy change when there is a sound research basis, and community water fluoridation has a sound research basis. It improves health immeasurably and saves money, and it has been clear that this is a sound thing to do for a long time."