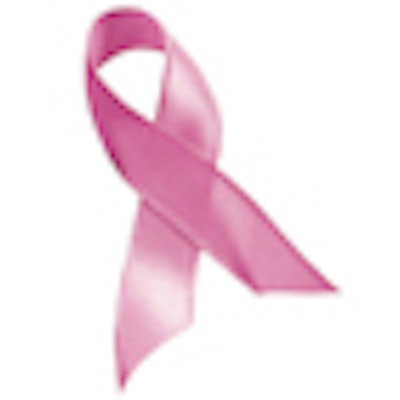 Breast cancer victims often suffer serious dental problems resulting from chemotherapy and radiation treatments, including oral mucositis and infections, xerostomia, and caries.
But many dentists and oral surgeons don't want to treat these patients, fearing that osteoradionecrosis may prevent irradiated bones from healing.
Las Vegas general practitioner Olya Banchik, DDS, who was inspired by her own mother's bout with breast cancer, has stepped up to help women deal with the broken teeth, oral infections, and inflamed periodontal tissue that often result from cancer treatment.
In February, Dr. Banchik and her husband established the Smiles for Survivors Foundation to provide treatment for breast cancer victims who have suffered severe oral complications.
"I wanted to do smile makeovers to give women something to feel better about themselves."
— Olya Banchik, DDS
"My mom was the driving force to start the foundation," Dr. Banchik told DrBicuspid.com. "So many people are affected by the disease, so I wanted to do smile makeovers to give women something to feel better about themselves."
Approximately 232,000 new cases of breast cancer will be diagnosed this year, and the disease will claim the lives of about 40,000 women and men, according to the National Cancer Institute (NCI).
Raven Burroughs, who was recommended to the foundation by one of Dr. Banchik's patients, became the first patient to receive pro bono treatment since the foundation was established. The 33-year-old single mother had a double mastectomy after being diagnosed with stage III breast cancer a few years ago. After undergoing radiation therapy, her teeth started breaking off at the gumline.
"I would wake up choking on a piece of tooth or they would break off while I was eating. It was horrible; I was in constant pain from the infections," she told DrBicuspid.com. "My aunt spent months and months searching for dentists to treat me."
Her insurance company refused coverage, saying the cancer treatments shouldn't have caused her dental problems.
"Mucositis causes oral sores, and it's is a huge problem and highly debilitating," Dr. Banchik explained. "Probably the most common complication is canker sores, which prevents people from eating because the whole mouth feels like it's burning."
Fear of osteoradionecrosis
Burroughs' dentist referred her to an oral surgeon, but he wouldn't treat her because she had had radiation up to the neck, a result of her cancer having spread to the lymph nodes. Despite having letters from her oncologist and radiologist clearing her for dental treatment, he and others who declined to treat Burroughs cited the risk of osteoradionecrosis.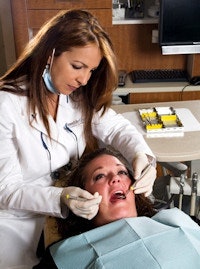 Dr. Olya Banchik provides dental care to breast cancer survivor Raven Burroughs through Smiles for Survivors, a nonprofit organization she launched. Image courtesy of Jeferson Applegate, Las Vegas Review-Journal.
"Her mouth was so badly infected when she walked in, I had no choice," Dr. Banchik recalled of seeing Burroughs for her first appointment. "She had a lot of mouth sores, gross dental decay, and inflamed gums. We took x-rays, and I knew there was no way I could let her walk out."
Dr. Banchik immediately put Burroughs on antibiotics and sent her to an oral surgeon who extracted 13 teeth, most of which had broken off.
There were complications after the extractions, said Dr. Banchik, who fabricated complete lower dentures for Burroughs and redid her upper dentures because they were ill-fitted.
With more than 1.4 million new cases of cancer diagnosed each year and a shift to outpatient management, more and more dentists will likely see some of these patients in their practices.
Multiple side effects
Approximately 40% of cancer patients may develop dental complications, Dr. Banchik noted. Radiation side effects can include skin pigmentation, ulceration, mucositis, weight loss, alteration in taste, xerostomia, caries, candidiasis, and osteonecrosis. Oral mucositis is one of the most painful side effects of radiation therapy. With radiation therapy, the main area of concern is the stratified squamous epithelium, but with chemotherapy, the whole mucosa becomes involved.
The mucosal lining of the gastrointestinal tract, including the oral mucosa, is a major target for treatment-related toxicity by virtue of its rapid rate of cell turnover. The oral cavity is highly susceptible to direct and indirect toxic effects of cancer chemotherapy and ionizing radiation.
In addition to the side effects of radiation, chemotherapy has the added side effects of increased nausea, reactivation of the herpes virus, accelerated fungus growth, and infections as a result of leukopenia.
Chemotherapy also causes dry mouth, which propagates the progression of caries. "I've definitely seen cases where there is severe tooth destruction," Dr. Banchik said.
Besides providing free dental care to breast cancer victims, she also hopes to raise awareness about the effect that cancer treatment can have on a patient's oral health.
October is Breast Cancer Awareness Month, and a good resource for dental professionals is NCI's "Oral Complications of Chemotherapy and Head/Neck Radiation."
Burroughs, who is now awaiting breast reconstruction surgery, said Dr. Banchik gave her more than her smile back.
"It had gotten to the point where I just avoided people all together because of the way I looked," Burroughs said. "She gave me every bit of my life back -- speaking, eating, smiling. Dr. Banchik and her husband have been phenomenal."