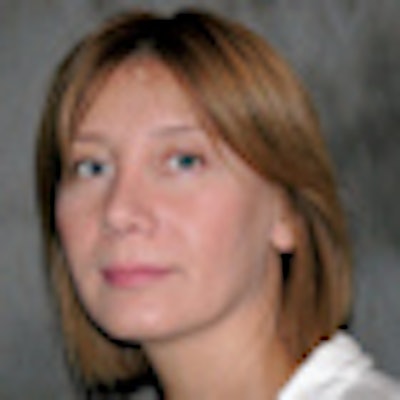 DrBicuspid.com is pleased to present the next installment of Leaders in Dentistry, a series of interviews with researchers, practitioners, and opinion leaders who are influencing the practice of dentistry.
We spoke with Mine Tezal, DDS, PhD, a research professor in social and preventive medicine at the University at Buffalo (UB) School of Public Health and Health Professions, who received her Doctor of Dental Surgery degree from the University of Istanbul School of Dental Medicine in 1990, then went on to get her specialty training in oral sciences and a doctorate in epidemiology and community health at the State University of New York at Buffalo. She is currently an assistant professor of oral diagnostic sciences at UB and an assistant professor of oncology and epidemiology at the Roswell Park Cancer Institute.
Dr. Tezal publishes regularly on critical issues concerning periodontitis, especially the association between chronic periodontitis and the risk of oral cancer. Her recent research suggests an association between chronic local inflammation and human papillomavirus (HPV) tumors in head and neck cancer.
DrBicuspid.com: How did you become interested in the association between periodontitis and the risk of oral cancer?
Dr. Tezal: I developed an interest in this topic while I was doing a combined degree program (certificate in periodontology/PhD in epidemiology) supported by a Dentist Scientist Award by the National Institute of Dental and Craniofacial Research. It is a good combination: In periodontology, you learn about the clinical behavior of the disease and have contact with patients; in epidemiology, you learn research aspects, the importance of methodology in getting valid answers and critical thinking.
In the meantime, I participated in studies assessing the link between periodontal and various systemic diseases in two research centers: Periodontal Disease Research Center in the dental school, and Women's Health Initiative Center in the medical school at the State University of New York (SUNY), Buffalo. I had the opportunity to see a lot of patients. The hypothesis for the proposed study developed gradually as a result of my clinical observations combined with the epidemiology training I was receiving. I had observed a higher frequency of oral soft-tissue lesions in patients with periodontal diseases compared with subjects with a healthy periodontium.
I began to read the literature on the inflammation-cancer link. I was surprised that, in contrast to a vast literature on inflammation-cancer link in other organs, the literature specific to oral inflammation-oral cancer link was virtually nonexistent. We performed a secondary analysis of a large national database (National Health and Nutrition Examination Survey III) that suggested an association between periodontitis history and precancerous lesions. We then collaborated with scientists in the Roswell Park Cancer Institute and confirmed the association between periodontitis history and histologically confirmed head and neck cancer.
What current research are you most excited about?
The results of our recent study suggested an association between chronic local inflammation and tumor HPV status of head and neck cancers. HPV infects only basal cells of the epithelium and gains access through breaks in the mucosa. In addition, the replication of the virus is closely associated with basal cell proliferation. Mucosal damage, microulcerations, and consequent epithelial proliferation mediated by inflammatory cytokines provide an ideal environment for both initial HPV infection and its persistence.
In this inflammatory environment, HPV is also shed in greater amounts leading to increased risk of viral transmission. If prospective studies in cancer-free populations confirm that chronic inflammation is a significant factor in the natural history of oral HPV infection, the public health implications would be important. A highly effective vaccine exists to prevent cervical HPV infection, and is currently recommended for females ages 9 to 26 years and males ages 9 to 21years prior to first viral exposure (by sexual encounter). On the other hand, oral HPV infection can be transmitted at birth or any time after. Therefore, labeling oral HPV infection as a "sexually transmitted disease" is not entirely correct.
The target population for the vaccine to prevent oral HPV infection has not been defined yet but obviously needs to be administered around birth. Currently, a large percentage of the general population who have already been exposed to the virus, or those who have developed an HPV-related disease, do not benefit from the vaccine.
Another important characteristic of the HPV infection that is not well-communicated to the public is that HPV is a commonly transmitted virus and the majority of the infections are cleared rapidly by the immune system without causing disease. Rather than the mere presence of the virus at one time point, its persistence is critical for the development of HPV-related diseases. Therefore, understanding its natural history and targeting factors associated not only with the acquisition but also with the persistence of HPV infection is important for both its prevention and treatment.
Our study suggests that one such factor might be chronic inflammation. Clinical signs of inflammation are easy to detect and may represent a high-risk profile for oral HPV infection. Prevention or treatment of sources of inflammation in the oral cavity may be a simple yet effective way to reduce the acquisition and persistence of oral HPV infection.
In addition, we recently observed that dental caries and periodontitis have contrasting associations with head and neck squamous cell carcinoma (HNSCC). While periodontitis was associated with increased risk of HNSCC, dental caries was associated with a decreased risk of HNSCC. This sounds paradoxical since many studies have combined periodontal diseases and dental caries in a single category as an indicator of poor oral health. However, these are two distinct diseases.
While periodontitis is associated with anaerobic gram-negative bacteria and is a significant source of inflammatory markers in saliva, dental caries is caused by commensal lactic acid-producing gram-positive bacteria and is not a source of inflammation in saliva. Cariogenic bacteria are actually associated with periodontal health. Studies suggest that Streptococcus mutans stimulates a highly polarized cell-mediated immunity promoting CD8+ T-cell response. This type of immune response is associated with a reduced risk of cancer. It is important to point out that lactic acid bacteria cause demineralization when they are in the dental plaque only, at immediate proximity to the tooth surface. The presence of these bacteria in saliva does not increase acidity; thus, it may protect oral mucosa against HNSCC without increasing the risk of dental caries in the absence of dental plaque.
Where do you think we will see the next big breakthrough for oral cancer in treatment or prevention?
Of course, you want to prevent disease before it develops. On the other hand, it is important to realize that the common denominator to both prevention and treatment is to understand the natural history of oral cancer. If we understand that, it will spontaneously lead to effective strategies for both prevention and treatment.
Studies have shown that patients with periodontal disease may be at an elevated risk for several systemic conditions, such as heart disease, diabetes, and adverse outcomes in pregnancy. Do you think there is enough awareness of this within the dental community?
I think most dentists are aware of the periodontal-systemic association, but the problem is that not all are convinced. Part of the problem is the lack of understanding that the choice of study designs needs to incorporate disease characteristics.
In general, the value of well-designed observational studies is underestimated and randomized controlled trials (RCTs), even though most are poorly designed and underpowered, are artificially overvalued. RCTs are considered the gold standard to establish a causal association. However, RCTs are not appropriate for all hypotheses, especially the ones involving chronic diseases such as periodontal diseases, cardiovascular disease (CVD), and cancer.
For example, if an RCT testing the effect of periodontal treatment on CVD events observes a nonsignificant or only a weak association, the strength of the association is probably underestimated even if the study had sufficient statistical power. Understanding the natural history of the disease is important in study designs: The buildup of atheromatous plaque (CVD) under the influence of periodontal bacteria and inflammation is a slow process spanning decades. During the RCT, periodontal treatment will decrease the current periodontal inflammation and bacterial load but it won't remove the atheromatous plaque that is already there, which will continue to put the individual at risk for cardiovascular events. Therefore, a RCT may grossly underestimate the true association between periodontal disease and CVD, depending on the hypothesis.
Another main characteristic of RCTs is that they can only test the effect of a single factor in a highly controlled design. Therefore, a well-designed observational study may provide better answers for chronic diseases, which start and progress slowly and have multiple risk factors.
What is the greatest challenge in successfully treating head and neck cancers?
We need to understand the natural history of HNSCC and the interactions between its risk factors. It is important to see the big picture first. If we focus on blocking one single agent in a single pathway, it is very likely that the treatment will be ineffective or will lead to side effects in the long run. There are probably thousands of pathways and millions of agents, all interacting with each other.
What impact do you think your research will have on dentistry as a profession?
The importance of local environment for carcinogenesis is widely accepted. However, research evaluating the role of oral diseases in the natural history of HNSCC is lacking. The main characteristic of infections linked with malignancies is that they are highly prevalent in populations and persistent for a long time. Periodontal diseases and dental caries fit these criteria. Our research has suggested for the first time that these two major oral diseases have contrasting effects on HNSCC, and that the sources of inflammation in the oral cavity may increase the risk of both oral HPV infection and HNSCC. If this is confirmed by other studies, it has significant implications not only for prevention but also for the treatment of HNSCC. Current treatment strategies for HNSCC -- chemotherapy and radiotherapy -- do not consider its etiology, are expensive and aggressive, and are often associated with significant morbidity without significantly reducing the mortality. The results of our research, if confirmed by others, can be directly translated to potentially effective treatment strategies without the extensive side effects and cost.