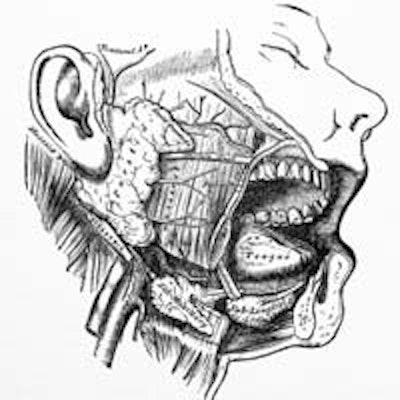 Patients with oropharyngeal squamous cell carcinoma (OPSCC) maintain a high quality of life a year after having transoral robotic surgery, according to a new study in the JAMA Otolaryngology -- Head & Neck Surgery (April 10, 2013).
But elderly patients and those treated with adjuvant treatments such as external-beam radiation therapy and chemoradiation therapy do not, according to the study authors.
Patients with OPSCC have historically been treated with primary open surgery. However, cure rates were low, complication rates were high, and patient health-related quality of life (HRQOL) decreased, the researchers noted. Efforts to minimize morbidity and preserve organs have shifted treatments to primary external-beam radiation therapy or chemoradiation therapy, but these treatments are often associated with significant side effects and decreased quality of life, they added.
Transoral laser microsurgery was pioneered in the 1990s by Wolfgang Steiner, MD, for laryngeal tumors and eventually adapted to the oropharynx. Since then, primary laser microsurgery has yielded favorable treatment outcomes for OPSCC patients, the researchers noted. Transoral robotic surgery (TORS), a more minimally invasive approach, was introduced in 2005 and has since been recognized as "oncologically sound," while also preserving function in OPSCC patients.
Complication rates are low and swallowing function remains high, according to the study authors. Research has shown that speech, eating, social, and overall quality of life tend to decrease but remain high three months after TORS. However, long-term results among a significant number of patients are lacking.
Long-term quality of life after TORS
To determine the short- and long-term health-related quality of life and functional outcomes in OPSCC patients undergoing robotic surgery, the researchers analyzed 81 patients with untreated OPSCC at the Head and Neck Cancer Clinic at the Ohio State University Arthur G. James Cancer Hospital from April 2008 to September 2012.
The study is the largest to date to evaluate long-term quality of life following TORS in a single-center, prospective manner, the authors noted.
The mean age of the patients was 58.3 years. Sixteen patients were women, and 65 were men. Sixty-two patients were smokers, with a mean pack-year history of 31.7 years. All patients had squamous cell carcinoma with 65 lesions occurring in a palatine tonsil and 16 in the base of the tongue.
Most of the patients had stage IV disease. "Furthermore, consistent with the current virally induced cancer epidemic, more than 70% of patients test human papillomavirus (HPV)-positive or p16-positive, yet more than three-quarters of these patients are still smokers," the researchers wrote.
Adjuvant treatment, including external-beam radiation therapy or concurrent chemoradiation therapy was administered within six weeks of TORS. Quality of life was measured using head and neck cancer-specific outcomes in four areas: speech, eating, social disruption, and aesthetics.
The patients were asked to complete a Head and Neck Cancer Inventory preoperatively and at three weeks and three, six, and 12 months postoperatively. Seventy-six patients completed the questionnaire at baseline, 64 at three weeks, 49 at three months, 47 at six months, and 42 at 12 months post TORS.
All HRQOL scores declined three weeks after TORS, the researchers found. Speech, eating, social, and overall scores continued to drop and reached the lowest levels at three months post TORS. Most patients who have problems related to radiation therapy and/or chemoradiation therapy tend to recover after 12 months, the authors noted.
Speech attitude, aesthetic, social, and overall quality of life scores showed the greatest recovery and were not statistically different from baseline scores (p > 0.05). Speech function and aesthetic attitude showed partial recovery but remained significantly below baseline (p < 0.05). However, at one year post TORS, scores for aesthetic, social, and overall quality of life remained high. Eating function and attitude were the most affected areas at 12 months post TORS.
Effects of adjuvant therapy
Patients who underwent adjuvant external-beam radiation therapy or chemoradiation therapy had the lowest eating HRQOL scores (p < 005) with differences of nearly 40 (radiation therapy) or 30 (chemoradiation therapy) points compared with patients who avoided either therapy.
"This finding is not unique," the researchers wrote, noting that external-beam radiation therapy and chemoradiation therapy are "known to cause substantial deterioration in perceived swallowing function."
The researchers postulated that it is adjuvant external-beam radiation therapy after TORS, not chemotherapy, that influences long-term eating function the most. It is also known that objective swallowing ability will deteriorate with adjuvant treatment, they stated.
Age also was a factor: Patients older than age 55 were nearly five times as likely to need a gastrostomy tube after TORS compared with younger patients.
Patients who avoided any adjuvant treatment showed superior HRQOL outcomes, the study authors concluded, a conclusion supported by other studies. Overall 12-month quality of life scores demonstrated no significant change from baseline (p > 0.05) despite significant deterioration in the patients' ability to eat and speak.
Recent studies continue to show that external-beam radiation therapy and chemoradiation theraphy have a negative impact on quality of life and swallowing function, with xerostomia-related complications being the most prominent obstacles for patients to overcome, the researchers noted.
"Minimizing and focusing [external-beam radiation therapy] while avoiding chemotherapy lead to fewer treatment toxic effects and improved outcomes," they wrote. "Patients with early-stage disease treated with surgery alone demonstrate superior outcomes by avoiding the toxic effects of [radiation therapy]."
Although these data are still preliminary, TORS shows promise as an optimal treatment strategy in early-stage disease, the researchers concluded. Higher quality of life for patients who undergo TORS may be due to the minimally invasive nature of the technique and lower external-beam radiation therapy dosage, they added.
"This article makes a modest contribution to the growing body of literature showing that it is the adjuvant therapy, not the transoral surgery and/or neck dissection, that is the primary factor in long-term swallowing dysfunction and reduced QOL," wrote Bruce Haughey, MB, ChB, of the Washington University School of Medicine, in an invited commentary.
Additional studies are needed to look at removing chemotherapy from adjuvant therapy for patients thought to be at low risk and to introduce less toxic chemoradiation, as well as identify those HPV-related patients with oropharyngeal carcinoma who do not need adjuvant therapy at all following transoral surgery and neck dissection, he added.