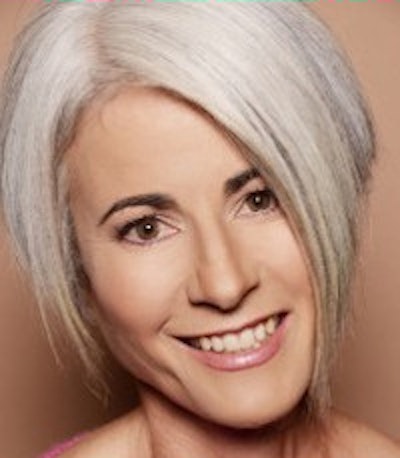 After having a third of her tongue removed and enduring six weeks of daily radiation to her head and neck to treat her stage IV oral squamous cell carcinoma, Eva Grayzel had had enough.
The vivacious 31-year-old mother of two young children could only eat a spoonful of food a day because it was too painful to swallow. She developed painful blisters in her mouth and throat that would open and bleed during severe coughing fits. She lost her voice and would wake in a panic gasping for breath when thick saliva pooled in her throat. Given only a 15% chance of survival, she wrote a farewell note to her husband and children.
"I felt myself begin to wither away in fear, devastation, and loneliness," she told a large and rapt group of dentists and hygienists during a session at the recent California Dental Association's (CDA) fall meeting in San Francisco.
But an oral surgeon who finally diagnosed her oral squamous cell carcinoma (OSCC) after a dentist, another oral surgeon, and a pathologist had missed it for two years delivered the bottom line: "This isn't a game you can quit. It's your life. Find the strength!"
Finally, two weeks after her radiation treatments ended, her symptoms began to subside.
Grayzel described the first physical sensation that made her feel better. "I suddenly burped; it was the first thing that made me feel normal again," she laughingly recalled.
Surgeons at Mount Sinai Hospital in New York City used tissue from her forearm to reconstruct her tongue and removed 40% of her lymph nodes. Intensity-modulated radiation therapy was used to spare nearby organs in her head and neck.
"It's amazing how we adapt," Grayzel observed, adding that "treatment for oral cancer is so dehumanizing."
How her symptoms started
Grayzel's symptoms started with a sore on her tongue. "It felt like a canker sore," she recalled. When it didn't go away after six weeks, she went to an oral surgeon who referred her for a biopsy, which came back negative. The general pathologist diagnosed it as moderate dysplasia.
Two years passed with no additional symptoms. But the sore persisted, so Grayzel returned to her dentist and oral surgeon, who both assured her it was nothing to worry about and advised saltwater rinses.
"I didn't want to bother these busy doctors if it was going to heal, but there was a big red swollen area around the lesion, and it really hurt and wouldn't go away," recalled the diminutive Grayzel, who has never smoked. She noted that 7% of oral cancer patients have no risk factors such as smoking or excessive drinking.
Her oral surgeon then recommended getting her molars shaved down. By this point, Grayzel was also experiencing excruciating earaches.
After a couple more months of pain, Grayzel went to a different oral surgeon who said she was biting her tongue and prescribed a night guard.
"To this day I don't understand why my dentist and oral surgeon kept saying, 'If this doesn't get better, come back,' " Grayzel observed. "They were basically telling me to self-diagnose."
A general practitioner then prescribed antibiotics for a tumor that had developed on the nerve of her ear.
Grayzel finally went to a New York City microvascular specialist who diagnosed her with OSCC on the lateral border of the tongue, an advanced stage of oral cancer.
"The pain my disease caused my children hurt me more than the disease."
— Eva Grayzel
Nine years after her treatments, Grayzel needed a molar extracted, but dentists were afraid to put in implants because of fears of osteoradionecrosis. However, one dental oncologist determined her bones were still dense enough and successfully placed three implants in her lower jaw.
Grayzel is now hypervigilant about oral hygiene and uses oral irrigation to keep her mouth and gums clean.
Cancer, she noted, is a family affair. "The pain my disease caused my children hurt me more than the disease," she said.
Fifteen years after surgery and radiation, Grayzel has had several negative biopsies and says she is back to her old self, although she still can't lift her head without using her hands because she only has one neck muscle left. And when she eats peppers her neck scar itches. Xerostomia also makes her drink water during the night.
Advice to oral health professionals
Now a motivational speaker, Grayzel has founded the Six-Step Screening oral cancer awareness campaign. She offered this advice to the audience of oral health professionals: "It's your responsibility to educate your patients about the early signs of oral cancer like coughing and hoarseness," she said.
Dentists should always follow up with patients who have benign lesions, and oral pathologists should be used to read biopsies.
"Never say, 'If it doesn't improve, come back,' and never watch and wait!" Grayzel stressed.
Her husband called her original dentist and oral surgeon after she was finally diagnosed with OSCC, but they never called back. She sued both, claiming that the dentist had altered her records and the surgeon negligently based his diagnosis on a 2-year-old biopsy.
Grayzel has made a rap video as part of her campaign to raise awareness among young people about oral cancer, noting that a growing number of oral cancer cases are showing up among them with human papillomavirus (HPV) infections.
Many in the audience were misty-eyed as they stood clapping along with the young, vibrant woman as she sang her rap song about survival.