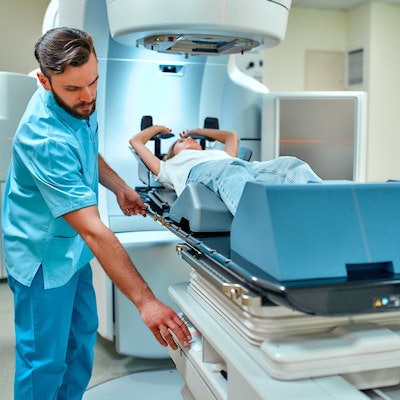 Childhood head and neck cancer survivors who undergo higher doses of radiation therapy face greater risks of developing salivary and dental complications, according to a review published on May 29 in the International Journal of Radiation Oncology, Biology, Physics.
Limiting ionizing radiation doses to children's parotid glands, which aid in saliva production, and keeping doses as low as possible to their oral cavities may minimize their risks of developing salivary dysfunction and dental problems like caries and root stunting. These dental conditions often are not discovered until years after radiotherapy, and are, unfortunately, permanent and may require surgery or orthodontic corrective procedures, the authors wrote.
"Radiation therapy to the head and neck region is critical in the management of various pediatric malignancies; however, it may result in late toxicity," wrote the authors, led by Dr. Sarah Milgrom, of the department of radiation oncology at the University of Colorado in Aurora.
Treatment with risks
More than 350,000 children around the globe are diagnosed with pediatric cancer. Though radiation therapy has improved their outcomes significantly, the treatment also can cause complications that can affect children's long-term health. Though clinicians develop treatment plans with the latest available information, there hasn't been a single source of guidance that outlines evidence-based decisions that pertain specifically to children receiving radiotherapy.
To remedy this issue, the Pediatric Normal Tissue Effects in the Clinic, a volunteer task force of about 150 physicians, medical physicists, epidemiologists, and other specialists, has been conducting research reviews to develop evidence-based guidelines for radiation therapy dosing for children with the goal of minimizing side effects of the treatment.
In this review, the group reviewed 40 studies for a qualitative analysis and three for a quantitative analysis to determine salivary dysfunction and dental abnormalities in patients who received radiation therapy to the head and neck region as children. They looked specifically at radiation dose delivered to the parotid glands, expressed in units of gray (Gy). The parotid gland is responsible for producing saliva, which moistens the mouth to help with chewing, swallowing, speaking, and digestion and functions to prevent tooth decay, according to the review.
The analysis revealed that a mean dose of 35 Gy to both parotid glands is linked with a risk of acute and late moderate (grade 2) xerostomia in about 13% of children. A mean dose of 40 Gy to both parotid glands is associated with a risk of acute and late moderate dry mouth in about 32% of children. Though risk of salivary dysfunction increases with greater doses, there is no information related to dry mouth risk at lower doses. Therefore, the task force recommends limiting the mean dose to no more than 26 Gy, the authors wrote.
After children receive radiation therapy to the oral cavity, it is common for them to experience dental developmental abnormalities. Since the minimum toxic dose for these dental conditions is unknown, the task force suggested that doses to the oral cavity should be as low as possible.
Additionally, special efforts should be made to keep doses to less than 20 Gy in patients who are younger than four. This is because the nature and severity of dental abnormalities is related inversely to a person's age and tooth development stage at the time of radiotherapy, the authors noted.
Regardless, the review had limitations, including that the data were narrow in terms of the possible effect of submandibular or minor salivary dose on the occurrence of dry mouth, they wrote.
Nevertheless, when radiation therapy is being considered for children, the risks must be weighed against the gains, the authors wrote.
"Higher doses to the salivary glands and oral cavity may be acceptable if they are necessary for a favorable oncologic outcome," Milgrom and colleagues concluded.