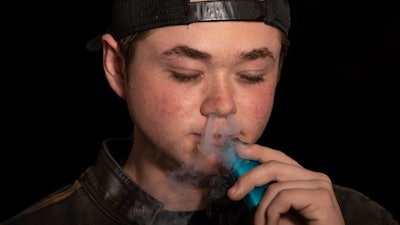 Young people who vape are more than twice as likely to report experiencing chronic stress, suggest findings presented at the European Respiratory Society International Congress in Milan.
The study showed that while young people who vaped were more likely to be physically active, they were also more likely to report experiencing extreme chronic stress in their lives.
The research was presented by Teresa To, PhD, from the Hospital for Sick Children in Toronto. To and colleagues used data from the Canadian Health Measures Surveys, a national survey designed to represent the Canadian population. It included 905 people between the ages of 15 and 30, of which 115 (12.7%) said they had used e-cigarettes.
To said that while the study shows a link between vaping and stress in young people, it does not show whether stress caused an increase in vaping and whether vaping increased experiences of stress. However, the study took other factors into account, such as income, alcohol consumption, and health conditions like asthma and diabetes.
With chronic stress leading to mental health conditions such as anxiety and depression, To added that it's important for young people experiencing chronic stress to have support early to avoid unhealthy coping mechanisms like vaping or smoking. She added that while it's unknown why young people using e-cigarettes tend to be more physically active, it could be because they are trying to control their weight with exercise and believe vaping could help.
The study also showed that young people who vape had poorer quality of life but lower risks of some signs of ill health, such as high blood pressure. However, the findings did not reach statistical significance.
Elif Dağlı, PhD, chair of the European Respiratory Society's group on tobacco, smoking control and health education, commented on the study. She said that it adds to what is already known about the effects of vaping on young people's health. Dağlı also called for more research on the impacts of vaping, as well as raising awareness of the harms of using e-cigarettes and providing support to help young people avoid or quit vaping.