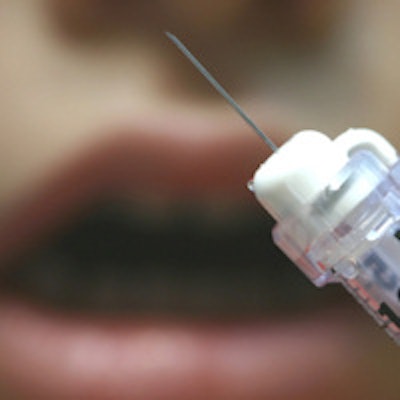 What if you never had to administer anesthesia through a needle again? A recent study evaluated the possibility of using an electric current instead of a needle for local anesthesia during routine dental procedures.
Brazilian researchers created a noninvasive anesthesia delivery system using iontophoresis for deep buccal anesthesia. Iontophoresis, which has been studied for more than 100 years in medical settings, uses a low-density electric current to introduce ionic drugs into the body through skin and tissues.
"The developed formulation presented adequate mechanical and mucoadhesive properties for buccal properties," the authors wrote (Colloids and Surfaces B: Biointerfaces, November 10, 2015). "Therefore, this can be considered a valuable strategy for the administration of needle-free anesthesia during dental procedures, likely offering a fast onset and prolonged duration of anesthesia."
Finding the right formula
While injectable anesthetics have made routine dental care accessible for many patients, some patients are still avoiding the dentist because they fear the needle. Currently, topical anesthetics are recommended for superficial procedures only, but the researchers envision a future where local anesthetics can be applied noninvasively.
"Among other advantages, noninvasive administration could save costs, improve patient compliance, facilitate application, and decrease risk of contamination."
— Camila Cubayachi
"Among other advantages, noninvasive administration could save costs, improve patient compliance, facilitate application, and decrease risk of contamination," wrote lead author Camila Cubayachi and colleagues. Cubayachi is a doctoral student at the University of São Paulo School of Pharmaceutical Sciences.
The researchers created several versions of a hydroxypropyl methylcellulose (HPMC) formulas with varying pH levels, including 7.0 that they specifically chose because it is the pH of saliva.
In one version of the pH 7.0 formulas, they combined the HPMC with prilocaine hydrochloride (PCL), and in another they combined the HPMC with lidocaine hydrochloride (LCL). They also created a version with both PCL and LCL, as well as a control that didn't contain either PCL or LCL.
They then tested the various solutions using a pig esophagus, which they chose because it had a similar lipid composition to buccal mucosa. They compared the effectiveness of the solutions by measuring the amount each penetrated the esophagus and how much of each solution remained in the tissue afterward.
The researchers found that iontophoresis significantly increased the penetration of both the PCL and LCL formulas at a pH of 7.0 compared with the formulas without any electric stimulation.
"When analyzing the effects of the drug combination on individual and combined retention rates when iontophoresis was applied at pH 7.0, a remarkable 86-fold increase was observed for PCL, followed by a 12-fold increase for LCL," the authors wrote.
The results were even more exaggerated for the combined PCL and LCL formula. They found that iontophoresis substantially increased PCL permeation at a pH of 7.0. This suggests PCL may be ionized when it is combined with LCL, the authors noted.
"Thus, it is possible that PCL possesses more ions to carry electric current and, therefore, presents higher iontophoretic flux than does LCL when they are associated in the same formulation at this pH," they explained.
Doing future research
The study findings suggest that the combined LCL and PCL formula could be used for buccal administration and that iontophoresis can increase the drug's permeation, according to the authors.
"Therefore, the quick interaction of our formulation with the mucosa, the relatively long period of permanence in its time of contact with the mucosa, and its adequate texture profiles suggest that the HPMC formulation that contained the mixture of LCL and PCL can be conveniently used for buccal administration," they wrote.
Future in vivo studies, however, will need to be conducted to see if iontophoresis truly can be used for needle-free anesthesia.
"The formulation that included the combination of the drugs at pH 7.0 significantly enhanced the total permeated amount and flux of PCL, in addition to increasing the amounts of both drugs that were recovered from the mucosa," the authors concluded. "It is interesting to use the combination of the drugs at pH 7.0 because, besides combining a higher onset (LCL) and duration of action (PCL), it is possible to achieve higher amounts of both anesthetics permeating through and recovered from the mucosa."