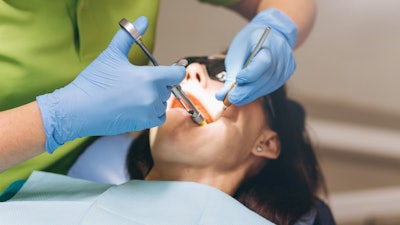 Though many clinicians reported being concerned about the risk of paresthesia associated with articaine, the use of the anesthetic has expanded among dentists in the U.S. The study was published on October 1 in the Journal of the American Dental Association.
About three-fourths of dentists reported administering articaine for all injections without or without the exception of nerve blocks, but only a very small percentage stopped using the anesthetic, the authors wrote.
"Assembling evidenced-based local anesthesia practices would be beneficial to ensure US practitioners are more standardized in administering local anesthetics, particularly articaine, in the safest and most efficacious way," wrote the authors, led by Dr. Robert Bowers, an assistant professor at the University of Iowa College of Dentistry in Iowa City.
In 2000, the U.S. Food and Drug Administration approved the use of articaine, triggering a change in dental local anesthesia practices in the U.S. The use of articaine by clinicians has risen steadily over the years. In 2017, manufacturer sales statistics estimated articaine at about 40% of the total U.S. dental local anesthetic market.
Dentists' decisions to use articaine as their firstline local anesthetic may be associated with a higher probability of reaching profound anesthesia with or without pulpitis, reduced injection pain, and a shorter onset than lidocaine. However, its 4% concentration has raised concerns about the safety of articaine. Retrospective studies have shown that higher concentrated local anesthetics like articaine may put patients at greater risk of dental paresthesia, according to the study.
To better understand which techniques and aesthetics practicing dentists in the U.S. use, 1,128 dentists completed a survey. The results revealed that about 97% of dentists reported having previous experience with articaine. Meanwhile, about 75% of clinicians reported administering articaine for all injections without or without the exception of nerve blocks, but only about 3% stopped using it, the authors wrote.
Approximately 55% of dentists reported paresthesia concerns related to articaine, whereas about 13% reported concerns of potential systemic toxicity, they wrote.
The study, however, had limitations, including how details about procedure type or tooth diagnosis affected clinicians' use of articaine, they wrote. Furthermore, more studies should be conducted in the future to gain greater insight into articaine use practices, the authors wrote.
"Better understanding of local anesthesia practices and potentially divisive influential factors will aid in improving the implementation of evidence-based dental local anesthesia practices and training in the United States," Bowers et al wrote.