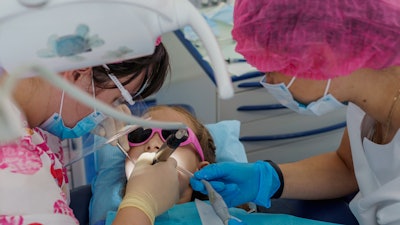 Developing a temporomandibular disorder (TMD) in childhood and beyond may be attributed to certain elements of dental care performed under general anesthesia, as well as biopsychosocial factors, according to a review published on May 29 in the Journal of Oral Rehabilitation.
The review only found one study that matched its criteria, but the evidence pointed to a potential link between general anesthesia for pediatric dental procedures and the subsequent development of childhood TMDs. Since research is limited, it is hoped that the review will identify gaps in knowledge concerning the effect of dental rehabilitation performed under general anesthesia and the development of TMDs that need to be explored in future research, the authors wrote.
"While there is no current tangible scientific evidence that common and routine dental or medical procedures lead to TMD, the literature shows that alterations to any one or a combination of critical factors can contribute to TMD development, which may be collectively exacerbated by iatrogenic microtrauma during the pDGA (pediatric dental general anesthesia) process," wrote the authors, led by Dr. Christopher Donnell of the department of pediatric dentistry at Charles Clifford Dental Hospital in Sheffield, U.K.
Although some patients typically present with TMDs between the ages of 20 and 40, they occasionally occur in children and young people. Some research has suggested that invasive and lengthy dental procedures may be linked to the development TMDs.
Further, in addition to the risk of mortality, endotracheal intubation during general anesthesia may be considered a risk factor for TMDs due to the temporomandibular joint being stretched when force is applied with a laryngoscope. However, there are insufficient studies regarding the possible association between pediatric dental general anesthesia and TMDs, according to the review.
After conducting a systematic scoping review, only one study matched the criteria. The authors limited their search to studies written in English.
The one study included in the view showed that children developed TMDs following dental treatment under general anesthesia. However, it is unknown whether the problems caused by treatment were exacerbated by other elements of the general anesthesia process, they wrote.
Despite only one study meeting the criteria for inclusion, the researchers' extensive and comprehensive search across relevant databases and grey literature was a notable strength of the review, the authors noted.
The limitations of the study included the omission of studies that were not available in English. Although including non-English studies may reduce the risk of systematic bias and increase generalizability, it also may drive up resource challenges, like costs and time, they wrote.
Therefore, more studies of a higher quality of evidence should be conducted on TMJ disorders and dental procedures, the authors wrote.
"Our reconnaissance has, however, revealed elements of pre-, peri- and post-operative dental rehabilitation under general anaesthetic, alongside biopsychosocial factors, which may contribute to TMD development in childhood, adolescence or beyond," Donnell et al wrote.