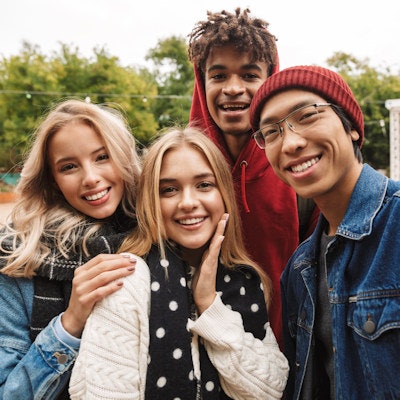 Having the best-looking teeth is now fashionable thanks to a spike in virtual meetings, the rise of online dental influencers, and high-end oral care products, according to a recent article from the Guardian.
Oral care products have found their spot in the self-care beauty moment, including $55 toothpaste and luxury whitening treatments promoted by reality stars-turned-influencers. One expert in the beauty industry even said that smile makeovers have become the "new boob job," the Guardian reported.
Self-care has continued to grow in popularity following the lockdowns during the pandemic. Forced to stare at themselves on platforms like Zoom to stay connected, people began scrutinizing their smiles and looking for ways to feel better and care for themselves. These factors, along with the rebranding of dental care products as "oral care," have made teeth more important than ever and given a boost to cosmetic dentistry.
Colgate-Palmolive noticed the importance of catering to Generation Z and has focused on the concept of "oral beauty." Those born between 1995 and 2015 are known for making self-care part of their daily routines and are affected by dental influencers on the video-sharing social network platform TikTok. The platform has also become a hotspot for viral, do-it-yourself dental trends, including using strong adhesive bonding glue to accessorize teeth. They also are more inclined to share a video of their new aligners than a designer handbag.
In March, Colgate-Palmolive made its move to get into self-care. It launched a new oral beauty and care collection called CO. by Colgate, which can only be purchased online from the company or from the beauty salon company Ulta. The brand also recognized Gen Z's concerns for activism, using the slogan "Smile boldly, speak up louder, live your truth more boldly."