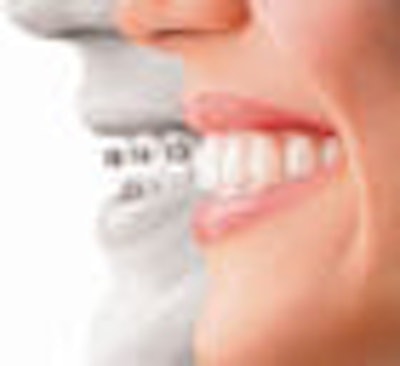 Align Technology is working to improve orthodontic outcomes and patient compliance with its newest clear aligner material, SmartTrack.
The new material also yields better rotations and better extrusions with attachments when compared with the G3 and G4 versions of Invisalign, according to John Morton, director of research and technology at Align.
An in-house study of more than 1,000 patients treated with Invisalign aligners made with SmartTrack showed statistically significant improvement in control of tooth movements such as rotations and extrusions (p < 0.001), compared with patients treated with aligners made with the current Invisalign material, according to the company.
SmartTrack was officially introduced January 21 and is currently available in all international Align markets except for China. Prior to its release, the company surveyed doctors for initial responses after it was tested on some 3,400 patients. The response from practitioners who received early access to the product has been positive, Morton noted.
"I've treated 15 to 16 patients with it, and I'm starting to complete them," said Clark Colville, DDS, MS, a private practitioner in Seguin, TX, and a member of Align's clinical advisory board. "The big thing we saw was that the teeth track better, so the patients who were compliant with wearing their aligners are having much less to do in case refinement. The teeth seem to be following the proposed plan with better detail."
Another dentist who had early access to SmartTrack said the changes are not immediately apparent.
"Honestly, to the eye there is not a noticeable difference," said Perry Jones, DDS, MAGD, an associate professor in the department of oral and maxillofacial surgery at the Virginia Commonwealth University School of Dentistry. "However, to the feel and touch, there is a noticeable difference in the 'flex' of the aligner. Patients report a better fit and greater ease with insertion and removal of the aligners."
Customized thermoplastic
In orthodontics, a gentle constant force is the most effective way to move teeth, Morton emphasized.
"It's the most efficient way to do it," he said. "The literature is replete with information like that. So that's one of the goals when you're designing a thermoplastic or a wire, and that was the main design criteria for a plastic that would improve the Invisalign plastic that we had been using."
He described the material used in previous generations of Invisalign as "a standard thermoplastic."
"It's definitely an improved material in terms of the orthodontics."
— John Morton, director of research and
technology, Align Technology
"This one," he said of SmartTrack, "has been designed specifically for orthodontics, specifically for Invisalign, and for the way we program tooth movement."
To achieve this, they tested the material properties of more than 260 different plastics. Some were sent by vendors, while others were created with formulas the company provided. Then, in the lab, Morton and his colleagues performed a standard stiffness analysis to determine its stretch.
"There's a fundamental number we have to hit," Morton explained. "If we're not within that range, it tells us that the material is not appropriate for orthodontic use. It might be too stiff, kind of like a car fender, or too flexible."
Also measured in a benchtop setting was the degree of clarity, a necessary feature that has been dictated by consumer taste.
"If it passes those tests, which is pretty heavy weeding, then we form it into aligners to see how well it performs," Morton said.
Those tests involve placing a prototype aligner on a set of aluminum teeth. Then the forces it applies to the dentition are measured. With these tests, the aligner's potential clinical performance comes into focus.
In addition to low constant force and clarity, the R&D team sought high elasticity. The previously used material relaxed and lost a substantial percent of energy in the initial days of aligner wear, Morton explained. But SmartTrack maintains more constant force during the two weeks that a patient wears the aligners.
"That means that stage by stage, it moves the teeth more to the programmed shape, which leads to better tracking of the tooth movement," he said.
Formability also factors into its effectiveness, so the researchers sought a better fit to the teeth and interproximal areas. "The better fit, the better control you have over the force," Morton added.
He and his research team were satisfied with the results.
"We pretty much met all those criteria with the material," he stated. "It's definitely an improved material in terms of the orthodontics."
Additionally, there will be "no change in price related to the material," Morton said. "Whatever the price structures were in practices as of this January, that's where it's staying."