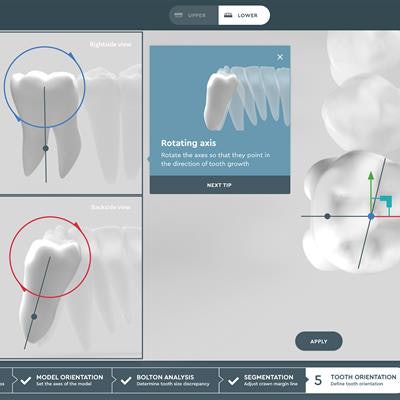 SoftSmile has introduced a new aligner software package for orthodontists that is based on biomechanics and machine-learning algorithms.
Debuted at the 2020 virtual American Association of Orthodontists (AAO) meeting, the software enables orthodontists to create aligner treatment plans in-house that are then developed using 3D-printing technologies, according to the vendor. The software includes visualization of teeth roots and movement of the lower jaw during the treatment.
In addition, the software models optimized teeth movement and suggests the number of aligners required for achieving the optimized result, SoftSmile said. Machine-learning algorithms also automate the time-consuming processes and facilitate the final setup of aligned teeth based on orthodontic measurements.
After the treatment plan is finished, the software automates 3D printing for orthodontists. The firm said it's currently working with 3D-printing company Carbon to integrate software and manufacturing to facilitate distributed dental printing for more orthodontists.
SoftSmile plans in the coming months to submit a 510(k) application for the software to the U.S. Food and Drug Administration (FDA). Until clearance is received, orthodontists can request to use the software on a trial basis, according to the vendor.