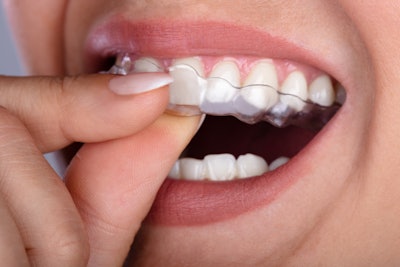 The U.S. Food and Drug Administration (FDA) has granted 510(k) clearance to LuxCreo's heated, chairside digital light processing 3D printing system that can produce same-day clear aligners.
By bypassing the traditional model and thermoforming stages, LuxCreo's platform can create a clear aligner in as little as two hours following intraoral scanning, the company stated in a press release. Additionally, LuxCreo's patent-pending multithickness technology enables customized teeth movements tailored to each patient.
The platform includes the following features:
iLux Pro Dental, a printer with 50-μ

m

pixel resolution that is capable of printing up to 175 models horizontally or up to 64 direct aligners in an eight-hour shift.


iLuxCure Pro, a programmable, multiwavelength, multidirection, high-irradiance postprint cure that can cure six to eight aligners within 30 minutes.


LuxAlign design software, which generates retainer designs, adds trimlines, repairs tooth gaps, and varies the thickness of the aligner.
The company's aligner material, which has been cleared by the FDA, is a tough, flexible material with high transparency that doesn't require manual polishing. Using LuxScale, dentists can order or modify the aligner treatment plan from a LuxCreo smart factory after patients approve their initial aligners. The iLux Pro Dental 3D printer and iLuxCure Pro can be ordered now and will be shipped in May.