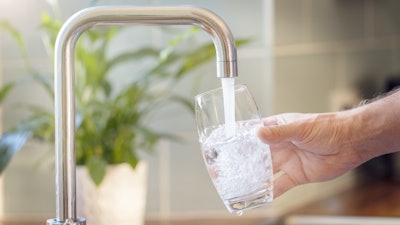 About 16% of nearly 8 billion population-weighted fluoride measurements for public water systems were below optimal fluoridation levels, jeopardizing tooth decay prevention, according to a report published on June 2 by the U.S. Centers for Disease Control and Prevention (CDC).
Between 2016 and 2021, monthly fluoride measurements were less than 0.6 mg/L. The U.S. optimal fluoridation level is 0.7 mg/L. Despite subpar fluoridation levels found in some drinking water, 4,080 community water systems safely fluoridated water 99.99% of the time, with levels below the U.S. safety standard of 2 mg/L, according to the CDC's "Morbidity and Mortality Weekly Report."
"Water system managers are encouraged to work with their state programs to report fluoride data to CDC and meet U.S. Public Health Service recommendations to provide the full benefit of cavity prevention through water fluoridation," wrote the authors, led by Theresa Boehmer of the division of oral health at the CDC's National Center for Chronic Disease Prevention and Health Promotion.
Water fluoridated at optimal levels prevents cavities by providing patients with consistent, low levels of fluoride, reducing tooth decay by 25% in children and adults. Water systems with fluoride levels below 0.6 mg/L are ineffective at preventing caries.
Among approximately 54,000 water systems in the CDC's Water Fluoridation Reporting System (WFRS), a total of 5,888 adjust fluoride levels and serve a population of more than 200 million people. Of the systems in WFRS, 4,080 that serve a population of about 124.6 million provided at least one month of data during the study period, the authors wrote.
Among the approximately 7.9 million population-weighted monthly fluoride levels (person-months) obtained during the study period, only 796,283 (0.01%) exceeded the safety standard. About 16% were below 0.6 mg/L, and approximately 83% of person-months operated between 0.6 mg/L and 2 mg/L, with the largest peak in data at the 0.7 mg/L targeted level, according to the report.
Nevertheless, the study had limitations, including that 5,888 (31%) systems did not report any fluoride levels during the period, they wrote. To ensure that people receive the benefit of tooth decay prevention from fluoridated water, system operators are encouraged to work with state programs to provide fluoride report data and meet recommendations, the authors wrote.
"Maintaining and improving access to optimally fluoridated water remains a vital, safe, and successful method for reducing dental caries and their associated costs for communities and families," Boehmer and colleagues wrote.