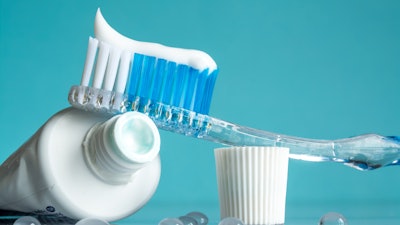 Dentists regularly meet with parents who shun fluoride for their kids, yet there is no guidance from American Academy of Pediatric Dentistry (AAPD) about alternative remineralizing agents. The study was published in the Journal of Clinical Pediatric Dentistry.
The lack of guidance or current policy from the AAPD may be why about half of pediatric dentists reported that they have a strong or moderate recognition of fluoride-free remineralizing agents, but nearly 60% were unfamiliar with a single brand of toothpaste that was fluoride-free and could remineralize teeth. Also, the region in which a pediatric dentist trained affected whether a clinician was more likely to recommend a fluoride-free toothpaste, the authors wrote.
"Parents who do not want their children to be exposed to fluoride have no recommendations from the AAPD on how to help remineralize their children's teeth and many practitioners do not know how to best serve patients who do not wish to use fluoride," wrote the authors, led by Dr. Michael Milano of the department of pediatric dentistry at the Dental College of Georgia in Augusta (J Clin Pediatr Dent, September 3, 2023, 47:5, pp.73-80).
The AAPD affirms that fluoride use is safe and effective as an adjunct in the prevention of caries, and it encourages dentists, other healthcare providers, and parents to optimize fluoride exposure to reduce the risk of caries and to enhance the remineralization of affected teeth. However, a growing number of patients have raised concerns over the use of fluoride following some studies that have shown that exposure to the mineral from public water systems or daily dental use may cause cognitive effects. Despite this information and some research that has shown the efficacy of fluoride-free remineralizing agents, most clinicians use and recommend fluoride-based products.
To better understand clinicians' acceptance and awareness of fluoride-free agents that remineralize teeth, a survey was sent to private practice pediatric dentists who were AAPD members based in the Southeast and West. Of the 204 dentists who responded, 57% practicing in the West reported seeing parents or patients opposed to fluoride a few times each day or a few times each week. Meanwhile, 45% of those practicing in the Southeast reported the same.
Nearly 56% of the pediatric dentists reported that they have either "moderate or strong recognition" of fluoride-free remineralizing agents. However, about 58% of pediatric dentists had not heard of a single brand of fluoride-free toothpaste that could remineralize teeth.
Meanwhile, approximately 15% of dentists responded that they would never or not likely recommend a fluoride-free toothpaste even if it was effective at arresting caries. The top reasons for not recommending an alternative were not enough research in the field (48%) and not enough personal research (32%). Personal preference and other reasons were the other responses, the authors wrote.
Where dentists received their residency training was a contributing factor. About 54% of pediatric dentists trained in the Southeast reported having moderate or strong awareness of fluoride-free toothpastes that remineralized enamel, while 57% of those trained in the Western U.S. reported the same. However, 63% of Western-trained and 57% of Southeastern-trained dentists did not recognize seven common brands of fluoride-free remineralizing toothpastes, they wrote.
Nevertheless, the study had limitations. Since only dentists from the Southeast and West were surveyed, their responses may not be generally applicable to the entire pediatric dentist population, the authors wrote.
"As many people look to their oral healthcare providers for support, this lack of recognition poses a risk to the fluoride-free population who may not have the additional support needed to prevent caries," Milano and colleagues wrote.