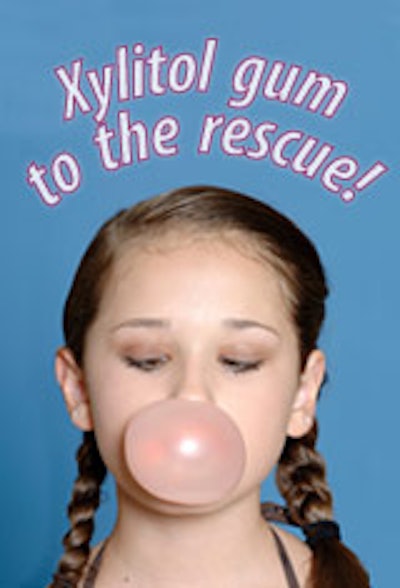 SAN FRANCISCO -- Chomping away on gum has never been a charming habit, but now we have a legitimate medical excuse for it. That's according to John W. Shaner D.M.D., M.S., Associate Professor at the Creighton University Medical Center School of Dentistry. He argues that xylitol- and sorbitol-based gums are so effective at fighting caries that dentists should be handing them out like... well, candy.
"Sugar is the main driver for caries, so we should be promoting sugar-free products," said Dr. Shaner, who spoke at the recent American Dental Association's 148th annual session here, just in time to influence trick or treating.
Sorbitol and xylitol gum lower caries by 40 percent to 80 percent respectively, he said. Chewing any kind of gum stimulates saliva, which neutralizes acid produced by plaque bacteria and helps in remineralization. When the gum is sugar-free, the chewer gets this benefit without giving bacteria a sugar feast.
Sugar-free gum comes with a variety of sweeteners, but most contain sorbitol or xylitol. "Sorbitol tends to be the main sweetener in most sugar-free or sugarless gums due to cost and its ability to blend with flavors and other sweeteners such as mannitol, xylitol, maltitol, tagatose, isomalt, saccharin, and aspartame," said Dr. Shaner in an email interview with DrBicuspid.com. "Each company has a proprietary recipe that makes their gum taste a certain way, [hoping] that it will sell better."
However, some plaque bacteria can metabolize sorbitol if in contact with it for a long period of time. Chewing sorbitol gum for more than 20 minutes increases its careogenic potential.
Xylitol is more effective because it "tricks" plaque bacteria, Dr. Shaner said. When the organisms try to metabolize xylitol, they convert it to xylitol 5 phosphate, which is toxic to them. In expelling this substance, they waste energy they would otherwise use to grow and multiply.
The American Dental Association has recently given its seal of acceptance to three sorbitol-based gums -- Orbit, Extra, and Eclipse. The ADA receives $12,000 for each gum it knights, said Dr. Shaner. But the acceptance has evidence behind it, he argued. "Toothpaste gets a seal of approval. Why shouldn't gum?"
For its part, the U.S. Food and Drug Administration (FDA) has only approved the statement that xylitol doesn't cause caries -- not that it helps prevent them. But other researchers agree with Dr. Shaner. "The evidence is strong enough to support the regular use of xylitol-sweetened gum as a way to prevent caries, and it can be promoted as a public-health preventive measure," wrote Brian A. Burt B.D.S., M.P.H., Ph.D. in the February 2006 issue of the Journal of the American Dental Association. (In an email interview with DrBicuspid, Dr. Shaner cited a half dozen studies supporting this view.)
Dr. Burt agrees with Dr. Shaner that sorbitol should be considered a low careogenic sweetener instead of noncareogenic."Dentists should advise their patients who chew sorbitol-sweetened gum to do so no more than three times per day," he wrote.
Although xylitol is the more effective sweetener, sorbitol-based gum is more common because it is cheaper. For example, you can buy 144 pieces of Wrigley's Orbit gum on Amazon for $11.73. A 100-piece bottle of Xylichew sold on the same site will run you $19.57. That's probably why the xylitol in some gums is diluted with other sweeteners.
Always check the label to see how much xylitol a gum contains, Dr. Shaner warned -- and how much sugar. (Under FDA regulations, gum can be labeled "sugar-free" or "sugarless" if it contains less than half a gram of sugar per serving. "Less sugar", on the other hand, means at least 25 percent less sugar than a reference product.)
How much to chew
Dr. Shaner recommends chewing six grams of xylitol gum per day, in at least three sessions of five to 20 minutes each. Chew less, and you'll get the benefits from increased saliva flow, but not the antibacterial effect. (Chewing more than 40 grams a day, on the other hand, can cause laxative effects.)
Since some gums contain a gram or less of xylitol per piece, you might have to chew two at a time to get the full six grams. "Chewing a theraputic dose of xylitol gum is about a dollar a day habit," pointed out Marilynn Rothen, R.H.D, B.S. at the University of Washington Seattle, in a DrBicuspid interview.
Dr. Shaner recommends Ice Breakers Ice Cube which is readily available, and Epic, Zapp, XyliChew, Spry, and Peelu brands, which are available in health stores or online. For those patients who don't like chewing gum, Dr. Shaner recommended sucking on xylitol hard candies.
And he urged dentists to encourage the habit. "Do your new patients leave with a toothbrush and toothpaste kit?" he asked the audience. "Do they leave with a piece of xylitol gum?" Scanning the unresponsive faces before him he frowned. "They should!" he said. "Forty percent reduction from sorbitol, 80 percent reduction from xylitol. Why aren't you giving them gum?"