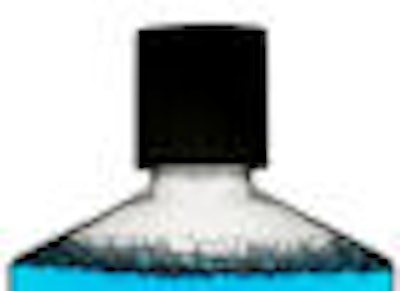 When it comes to gingival inflammation, mouthwash that relies on essential oils may be a reliable alternative to chlorhexidine (CHX) for long-term use, a new systematic review of the literature has found (Journal of Periodontology, November 2, 2010).
Chlorhexidine mouthwashes provide significantly better effects regarding plaque control, the researchers noted, but the review found no significant difference with respect to the reduction of gingival inflammation between the two mouthwashes.
Multiple antigingivitis and antiplaque over-the-counter mouthwash products are available, but chlorhexidine mouth rinse is considered to be the most effective on both plaque and gingivitis, noted lead author M.P. van Leeuwen, a doctoral student at the Academic Centre for Dentistry Amsterdam, part of the University of Amsterdam.
However, several side effects -- including extrinsic tooth and tongue brown staining, taste disturbance, enhanced supragingival calculus formation, and, less commonly, desquamation of oral mucosa -- are associated with its use, van Leeuwen noted.
When a 2007 systematic review established the antiplaque and antigingivitis potential of essential oils mouthwash to a placebo or control (Journal of Periodontology, July 2007, Vol. 78:7, pp. 1218-1228), the authors decided to compare its results with chlorhexidine using Listerine as the essential oils mouth rinse.
The objective of this latest study is to provide a contemporary appraisal of research using transparent methods while aiming to minimize bias, Leeuwen explained.
"If such conditions are met, the reader should have greater confidence in the conclusions of the review than in other summaries of clinical evidence," he added. "To date, there is no systematic review available that has evaluated the comparison of Listerine to chlorhexidine-containing mouthwashes."
Surprising findings
The study authors gathered and evaluated available data on the effect of a standardized essential oils mouthwash formulation compared to chlorhexidine mouthwash with respect to plaque, parameters of gingival inflammation, stain, and calculus when the products are used as an adjunct to self-performed daily oral hygiene procedures or as monotherapy.
"This puts the general assumption that chlorhexidine is the gold standard in a different perspective."
— M.P. van Leeuwen, University of
Amsterdam
They conducted a systemic review by searching PubMed, Medline, and the Cochrane Central Register of Controlled Trials databases for studies up to and including September 2010 and found 390 unique papers, of which 19 met the eligibility criteria. The criteria were as follows:
Randomized controlled clinical trials or controlled clinical trials
Trials conducted in humans in which subjects were age 16 or older and in good general health
Intervention: Listerine mouthwash as a standardized formulation of essential oils technology
Comparison: Chlorhexidine mouthwash
Mouthwashes either used as a monotherapy or as an adjunct to self-performed daily oral hygiene
Parameters mentioned in short-term studies (less than four weeks): plaque
Parameters mentioned in long-term studies (four weeks or more): plaque, stain, calculus, bleeding, and gingivitis
Two reviewers individually scored the methodological quality of the 19 studies.
A meta-analysis of long-term studies showed that chlorhexidine mouthwash provides significantly better effects regarding plaque control than essentials oils mouthwash, while no significant difference with respect to reduction of gingival inflammation was found between the two, the researchers noted.
As expected, chlorhexidine mouthwash showed a significantly better effect on plaque in both short- and long-term studies when compared with Listerine, "but to our surprise, no significant differences were found in the long-term studies with respect to the gingival index," van Leeuwen said.
"This puts the general assumption that chlorhexidine is the gold standard in a different perspective," he added. "At least this holds true for plaque but does not seem applicable in respect to gingivitis."
The effect of chlorhexidine on gingivitis is likely due its strong effect on plaque, whereas the antigingivitis effect of Listerine (in part) is dependent on anti-inflammatory effect, van Leeuwen explained.
Shivalal Sharma, BDS, MDS, an associate professor of periodontics at the B.P. Koirala Institute of Health Sciences College of Dental Surgery in Nepal who has done similar research (Journal of Clinical Pediatric Dentistry, Winter 2007, Vol. 32:2, pp. 111-114), thinks these results are particularly enlightening because this is the first study of its kind to focus on these cytokines and chlorhexidine.
"Chlorhexidine, essential oil, and povidone-iodine mouthwashes can be used effectively as an alternative treatment in patients contraindicated for manual/ultrasonic scaling in chronic gingivitis," he said.
Considering the potential benefits and the observed side effects, the essential oils mouthwash appears to be a reliable long-term alternative to chlorhexidine for reducing gingival inflammation, van Leeuwen said.
"For short-term antiplaque effects, CHX remains the 'chemical toothbrush' of choice," he concluded.
Copyright © 2010 DrBicuspid.com