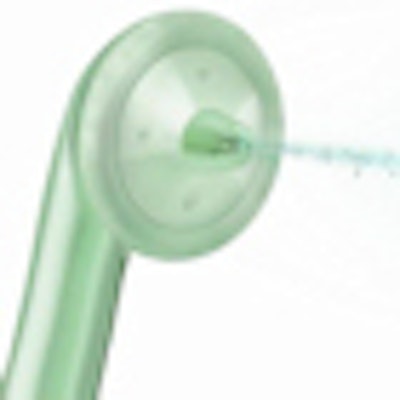 Flossing has never been a popular activity, and while some patients may floss regularly to preserve that healthy smile, most are just not motivated.
At the California Dental Association (CDA) fall session last week in San Francisco, Philips showcased a new flossing device that does away with string and gives dental practitioners a unique option for wooing noncompliant patients.
Launched earlier this year as part of the company's Sonicare product line, the AirFloss uses compressed air to accelerate microdroplets of water or mouthwash to disrupt and remove plaque in between teeth where a toothbrush cannot reach. The AirFloss can clean the entire mouth in 60 seconds, according to the company.
"Not only does it disrupt plaque biofilm structures in critical and hard-to-reach areas, it promotes healthy gums with the targeted release of water/air spray," stated Joerg Strate, DDS, vice president of Philips Oral Healthcare clinical and scientific affairs, in a press release.
In a clinical study presented in March at the 2011 International Association of Dental Research meeting in San Diego, when combined with brushing, the Air Flosser removed up to 99% more plaque between teeth than brushing with a manual toothbrush alone. In another study conducted by the company but not yet published, when used in conjunction with the Sonicare FlexCare, the AirFloss removed 66% more plaque compared with Sonicare FlexCare alone.
How it works
The cordless AirFloss is about the same size as a standard electric toothbrush and features a nozzle with a guidance tip that ensures proper nozzle placement by gliding along the gum line and settling in between teeth. The handle and nozzle are designed to enable easy access to all areas of the mouth, according to the company.
The device features a reservoir that can hold enough water or mouth rinse for two uses (less than a teaspoon for each use). Switching it on is like clicking a computer mouse. It is powered by a lithium-ion battery that holds a two-week charge.
"The Sonicare AirFloss is not designed to replace string floss."
— Paul Jessen, Sonicare Dental
Professional
The power on the Sonicare AirFloss is not adjustable; it has been designed to offer the optimal power to ensure it is effective in removing plaque while remaining gentle on gums and dental work, according to the company.
The device is not cheap, retailing for $89.99 in stores. However, Philips is currently has a $39.95 trial offer for dental professionals, and the company is confident the price will not be prohibitive.
"We are used to playing in the premium space," Paul Jessen, marketing manager for Sonicare Dental Professional, told DrBicuspid.com. "Just like our power toothbrushes, dental professionals know that we will deliver a high-quality product."
For example, another clinical study conducted by the company but not yet published found that after one month of use, 96% of 51 patients who flossed irregularly continued to use AirFloss at least four times a week.
"Flossing is such a huge challenge for dental professionals and is probably the No. 1 compliance issue," Jessen said. "That is why the value of something that will take patients from no interproximal cleaning to four times a week is priceless."
While the AirFloss not been designed to directly replace floss in all aspects (such as removing large debris from in between teeth), it is an excellent alternative for daily interproximal cleaning, Philips noted.
"The Sonicare AirFloss is not designed to replace string floss," Jessen said. "It is for the up to 90% of dental patients who are noncompliant flossers."
When compared with the Waterpik, the AirFloss uses less water, gives more control, and is overall a more user-friendly product, he added.
Among a sample of 59 irregular flossers, another Philips study found that 86% of patients found it easier to use than floss, while 69% of users found it easier to use than an oral irrigator.
The company is planning to conduct more clinical studies to look at the benefits of the AirFloss for orthodontic patients and do further comparisons with the Waterpik, Jessen added.