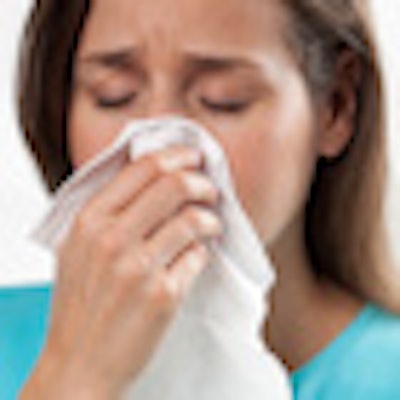 In 2008, a Swiss tourist visited a hospital in Tucson, AZ, and subsequently became the source of 14 cases of healthcare-associated measles (Journal of Infectious Diseases, June 1, 2011, Vol. 203:11, pp. 1517-1525).
Half of those affected were older than 18 years of age, four were hospitalized, seven contracted measles in healthcare settings, and none had evidence of measles vaccination. The costs of testing, contact tracing, immunization of healthcare workers, and 15,120 contact hours lost in healthcare worker furloughs related to this highly contagious -- and vaccine-preventable disease -- ultimately resulted in nearly $800,000 in total healthcare costs.
Imagine a patient coming into your dental practice with a runny nose and mild cough who thinks it is only allergies, only to discover later that it was pertussis -- another highly contagious, vaccine-preventable disease. To abide with established infection control guidelines, any of your staff with significant contact with that patient and a runny nose must be tested, treated, and furloughed until pertussis can be ruled out.
Healthcare providers are at high risk for becoming infected with and transmitting infectious diseases to others, but research has shown that awareness of vaccine-preventable infectious diseases is lacking (American Journal of Infection Control, December 2009, Vol. 37:10, pp. 858-860).
A more recent study illustrated that awareness among dentists on the importance of vaccinations remains low (Vaccine, October 19, 2011, Vol. 29:45, pp. 8108-8112). The study researchers surveyed 443 dentists with at least 15 years of activity at an important Italian national dental congress in 2009; 379 dentists completed the questionnaire.
The respondents' rate of awareness of vaccine-preventable infectious diseases was measured by two standards. The first level of awareness was referred to as dental healthcare provider-specific awareness (DHCP awareness) regarding the two most important vaccine-preventable infectious diseases likely to be transmitted in the dental office: hepatitis B and influenza. The second index referred to the whole set of vaccinations recommended to HCPs in general (HCP awareness).
Moderate to low awareness
On the scale of DHCP awareness, 53.8% had tested their level of antihepatitis B antibodies in the last 10 years, and 47.5% reported getting the flu vaccine annually, but only 32.5% could answer that they did both (high awareness), while 31.1% reported that they did neither (low awareness).
For HCP awareness, they were asked two additional questions: whether they were immune to measles, mumps, rubella, or varicella, and whether they had received a tetanus booster in the last 10 years. For each affirmative answer, they were given one point, for a maximum awareness score of 7 points.
On the scale of HCP awareness, none of the dentists scored 6 or 7 points, showing 0% with high
"Other than hepatitis B, it's all about droplets."
— J. Michael Hitt, MD, Campus Health
Medical Surveillance Program,
University of Arizona
awareness, 86.3% of the dentists got 2 points or fewer, and 30.1% received 0 points out of 7.
"The overall level of awareness toward vaccine-preventable infectious diseases in this sample of Italian dentists, with more than 15 years of activity, is moderate to low," the researchers wrote. "Such results cannot be totally ascribed to insufficient knowledge or misperceptions of providers, but also and principally to the characteristics of immunization programs, since specific programs are lacking or unclear, while healthcare providers' programs are probably excessive with the real risk of infection in the dental healthcare setting."
The Italian study also assessed the impact of flu shots and found that while occupational influenza risk among dentists is high, dentists who receive a flu vaccine have half the absenteeism rates of nonvaccinated dentists for influenza-like illness and lower rates of recurrence. Even so, fewer than half of the dentists in the study reported receiving annual flu vaccines.
In the U.S., 10% to 20% of the population becomes infected with the flu each year. Transmission of influenza is possible for 24 hours or more before the sick person shows any symptoms.
"Other than hepatitis B, it's all about droplets," J. Michael Hitt, MD, an occupational medicine physician at the University of Arizona, told DrBicuspid.com. "Dental staff are bathed in droplets on a daily basis. Face shields, masks, and gloves are a big help, but innate immunity (by vaccination) will seal the deal."
Pertussis endemic
Pertussis is another infectious disease that dental care professionals should be prepared for. Based on studies that look at reporting rates, pertussis is estimated to affect 600,000 U.S. adults ages 20-64 annually, and epidemics occur in the U.S. every three to five years, according to the U.S. Centers for Disease Control and Prevention (CDC). In 2010, cases of pertussis in California reached the highest reported rate since 1947, and reported cases also rose significantly in Michigan and Ohio, according to the CDC.
The first week's symptoms of pertussis are often just a runny nose, with the signature "whooping cough" showing itself in older children and adults in the second contagious week or after. If the chain of infection reaches an infant younger than 1 year old, the chances are more than 50% that the infant will need to be hospitalized, with apnea often being the primary symptom.
Pertussis immunity has been shown to wane among previously immunized adolescents and adults, but many adults have not been vaccinated, leaving them vulnerable to infection and infecting others (Human Vaccines, February 2011, Vol. 7:2, pp. 197-201).
"Healthcare workers find themselves caught in a pertussis trap," Dr. Hitt said. "Not only is our pertussis immunity waning as we age, but our risk of exposure is much higher than the general population. When we become infected, we are in perfect position to disseminate it among our unsuspecting patients and family members -- often without ever knowing that we were carrying anything."
An adult pertussis vaccine was not available until June 2005, so providers who have not had a tetanus shot since then have definitely not had the tetanus, diphtheria, pertussis (Tdap) vaccine.
"Because of their contact with patients or infective material from patients, healthcare personnel, including dental professionals, are at risk for exposure to and possible transmission of vaccine-preventable diseases," said Andrew Kroger, MD, MPH, medical officer with the CDC.
The CDC's Advisory Committee on Immunization Practices recommends all healthcare personnel, regardless of age, receive a single dose of the Tdap vaccine as soon as feasible if they have not previously received the vaccine, and regardless of the time since their last Td dose, he added.
"American dental professionals have demonstrated to the world that prevention is the key to oral health," Dr. Hitt said. "For them not to be just as enthusiastic about prevention by way of vaccine would be a sad contradiction indeed."