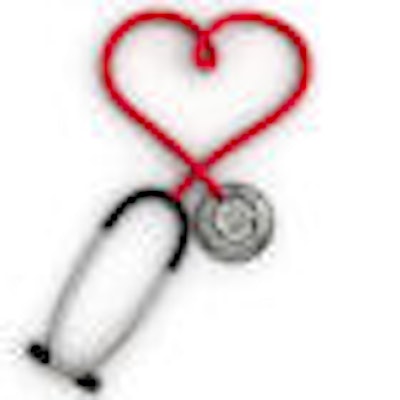 A new study that looked at the relationship between oral health and coronary artery disease (CAD) in Pakistan found that poor oral health indicators were significantly associated with the disease (Journal of Periodontology, November 2012, Vol. 83:11, pp. 1382-1387).
A large proportion of Asian populations have moderate to severe periodontal disease, and a substantial number is going to suffer and shall die from cardiovascular diseases, said study author Syed Akhtar Hussain Bokhari, PhD, of the faculty of medicine and dentistry at the University of Lahore in Pakistan, in a DrBicuspid.com interview.
While global data on epidemiology and the association of periodontal and cardiovascular diseases present overwhelming information from the developed world, the Asian countries accounting for 60% of the world's population have no scientific contribution to that extent, Bokhari added.
"There is inadequate research on the relationship between oral health and cardiac diseases from developing countries. Therefore, this study was designed to observe the status of oral health in the CAD population of Lahore, Pakistan," he said.
Study criteria
Bokhari and colleagues conducted a case-control study in Sheikh Zayed Medical Complex (SZMC). A total of 1,546 patients admitted to the cardiology department of SZMC with diagnosed CAD during 2009 were screened; 156 of these patients fulfilled the inclusion criteria for the study.
The inclusion criteria required patients of either gender to be older than 30 years of age and be stable CAD patients diagnosed at least 3 months previously by a consultant cardiologist. They could be with or without formal education, hold any occupation, and needed to have 14 natural teeth and no other systemic acute or chronic illness.
Eleven of the patients refused to participate, and 145 were recruited as cases.
Exclusion criteria for both cases and controls included obese persons who had a body mass index (BMI) of 25 or higher, those with chronic liver disease, chronic renal disease, diabetes mellitus, malignancy, a history of smoking, fewer than 14 teeth, and those who received periodontal therapy less than six months previously.
Controls were either the attendants of the CAD patients or the patients attending any other outpatient department of SZMC to have similarity in socioeconomic status. A total of 145 controls were recruited with the same inclusion criteria (matched for age, sex, and education) but who did not have a history of CAD.
Oral and dental examinations were performed using a mouth mirror and the community periodontal index (CPI) probe in the dental department of SZMC. Oral health status was measured by CPI and the Silness-Löe plaque index (PI).
The CPI was determined as healthy (score 0), gingival bleeding (score 1), calculus presence (score 2), probing depth (PD) of 4 mm to 6 mm (score 3), and PD of more than 6 mm (score 4). Index teeth used for CPI measurement were teeth 2, 3, 8, 9, 14, 15, 18, 19, 24, 25, 30, and 31. PI was noted in score 0 (no plaque), score 1 (film of plaque), score 2 (moderate plaque), and score 3 (abundant plaque).
Sociodemographic characteristics
Here are some of the key results:
Cases and controls were comparable for the insignificant difference with respect to their demographic characteristics (sex, age, and education categories).
A significant difference between cases and controls was observed in the study sample with respect to missing teeth and periodontal parameters of PI and CPI.
Cases were observed with significantly higher scores of PI (2 and 3) and CPI (3 and 4) compared with controls.
Prevalence of periodontal parameters was observed to be higher in cases than controls at subgroup-level (sex and age group) analysis.
"Poor oral health was significantly associated with CAD in this study sample matched for sociodemographic characteristics," the authors concluded.
This case-control study represents some of the pioneering work being conducted on the oral health status of CAD patients from Pakistan, Bokhari said.
In view of the significant role of confounding factors in establishing a link between oral and cardiac disease, this case-control study excluded smokers and patients with diabetes, which are major risk factors for both periodontal disease and CAD, he added. The study population of this investigation comprised equal numbers of cases and controls drawn from the same socioeconomic status and matched for age, sex, and educational status.
These results confirm and strengthen the relationship between oral health and CAD reported by previous studies, and also provide evidence that plaque scores have significant association with CAD in all age groups and both genders, according to Bokhari.
"This study calls for further research from developing countries to explore the role of oral diseases in systemic conditions especially noncommunicable diseases that are escalating to epidemic levels in developing countries," he concluded.