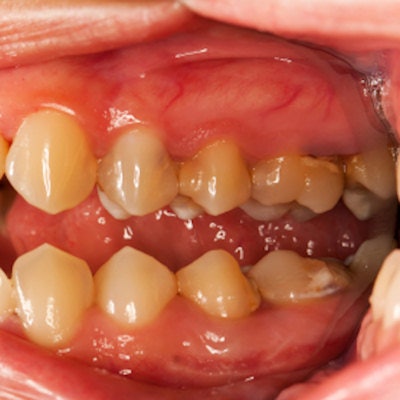 Rheumatoid arthritis (RA) and periodontal disease are both inflammatory, chronic, and progressive, but is there a link between the two? Researchers surveyed hundreds of patients with RA to find out.
Previous research has noted that patients with RA have an increased frequency of periodontal disease when compared with healthy patients. The authors of the current study reported that their survey found that a significant portion of patients with RA also had symptoms of periodontal disease (International Journal of Rheumatic Diseases, May 7, 2019).
"Current findings strongly support the hypothesis that chronic periodontal disease could be related to the initiation and maintenance of the autoimmune inflammatory responses that occur in RA," wrote the authors, led by Małgorzata Radwan‐Oczko, an associate professor in the department and division of oral pathology at the Wrocław Medical University in Poland.
Tooth and gingival health
"Cooperation between rheumatologists and dentists is important in oral health management in periodontal inflammation."
— Małgorzata Radwan-Oczko and colleagues
Patients were asked about their tooth health:
13% said their tooth health was poor.
46% said their tooth health was good.
40% said their tooth health was excellent.
Patients were also asked about their gingival health:
11% said it was poor.
49% said it was good.
40% said it was excellent.
More than 1.3 million people in the U.S. have RA, according to the Rheumatoid Arthritis Support Network. More than 60 million people in the U.S. have periodontal disease, according to the American Academy of Periodontology. The researchers wanted to describe these patients' self-reported oral health and RA disease activity to see if there might be an association. This is the first such study to describe the assessment of the oral health in RA patients based on their own self-reporting, they noted.
They emailed surveys to 300 patients receiving treatment for RA from one hospital in Denmark. They received more than 160 completed surveys.
In addition, patients were asked if they experienced bleeding gums after they brushed their teeth. A majority of patients who rated their gingival health as poor or good did report such bleeding at least sometimes (see table below).
Percentage of patients reporting bleeding after toothbrushing
Gingival status
Poor
Good
Excellent
No provoked bleeding
39%
42%
66%
Sometimes present provoked bleeding
39%
51%
32%
Often present provoked bleeding
22%
32%
2%
Cooperation needed
While the authors reported no limitations of their study, they noted that it was based on a self-reported survey, meaning the patients' observations might not be accurate or truthful.
Nevertheless, the study results highlight the need for medical practitioners to have at least some knowledge about oral health and to be aware of the need to refer to their patients for dental care, according to the researchers.
"Cooperation between rheumatologists and dentists is important in oral health management in periodontal inflammation," the authors wrote.