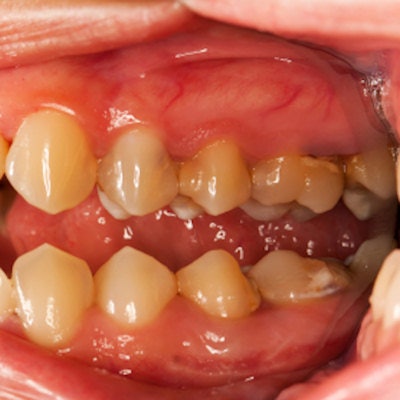 Using an air-polishing powder containing a sugar alcohol commonly used as an artificial sweetener during nonsurgical periodontal treatment may result in positive outcomes for patients, according to a small study published on December 29 in BMC Oral Health.
Those patients who had erythritol air-polishing powder applied with a nozzle system during subgingival instrumentation (SI) had significantly fewer sites with high probing depths than those who didn't. The patients also showed a reduction in bacteria linked to periodontal disease, according to the authors.
"The adjunctive use of erythritol air-polishing powder applied with the nozzle-system during SI may improve the clinical outcome of SI and may reduce the need for periodontal surgery," wrote the group, led by Dr. Holger Jentsch of the cariology, endodontology, and periodontology department at the Centre for Periodontology, University Hospital of Leipzig, in Germany.
Subgingival instrumentation is considered the gold standard in the nonsurgical treatment of periodontal disease. This treatment is effective in achieving infection control, but it requires continued maintenance. Clinicians continue to look for ways to achieve better outcomes. Because there are limited data indicating that adjunctive use of air polishing with erythritol is beneficial, the researchers sought to further determine whether it affected bleeding on probing, probing depth (PD), and more.
The study included 42 patients with moderate to severe periodontitis. Half of the participants received nonsurgical periodontal therapy by subgingival instrumentation with adjunctive air polishing using a nozzle plus erythritol powder. The rest of the participants underwent the nonsurgical procedure minus the sugar alcohol. Gingival crevicular fluid (GCF) and subgingival biofilm samples were collected from the participants, who were analyzed for bleeding on probing, probing depth, attachment level, and microorganisms at baseline and at three and six months after subgingival instrumentation.
What was found
After six months, those treated with erythritol had significantly fewer sites with a probing depth of at least 5 mm than those who didn't receive erythritol. The erythritol-treated patients also saw reductions in the amount of the periodontal disease-linked bacteria Tannerella forsythia and Treponema denticola after six months, compared to baseline, Jentsch and colleagues reported.
The findings may be encouraging, but the study had several limitations; for example, it didn't include patient-related factors, and there was no control group in which the nozzle was used without an air abrasive powder, they wrote.
Though the results did not show a difference in bleeding on probing between the groups, they do support other benefits.
"Subgingival instrumentation with adjunctive erythritol air-polishing powder may add beneficial effects like reducing the number of residual periodontal pocket with PD ≥ 5 mm when compared with subgingival instrumentation only and may reduce the need for periodontal surgery," the authors wrote.