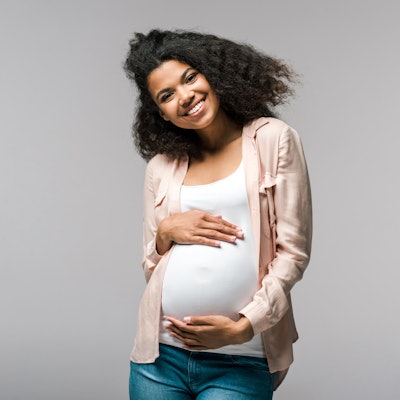 Periodontal disease is an epidemic trend, according to the authors of a systematic review published on August 20 in the Journal of Dentistry. More than one-third of pregnant people experience periodontitis, and about two-thirds experience bleeding on probing, the review found.
Oral health has a significant impact on pregnancy outcomes for mothers and their future babies. Although most inflammatory changes that occur during pregnancy, including gingivitis, disappear within a few months after delivery, previous research has shown that pregnant women are more likely to experience periodontal disease, which can compromise quality of life and lead to future tooth loss.
"Importantly, the high prevalence of periodontal disease in pregnancy should prompt health policymakers, as well as dental and medical communities to take action against the hidden burden on the global population," wrote the study authors, led by Dr. Piaopiao Chen of Zhejiang University in China.
The systematic review of 20 studies evaluated the prevalence of periodontal disease among a generally representative sample of pregnant women throughout the world. Since the diagnostic criteria can differ among studies, researchers used consistent diagnostic criteria for periodontal disease and clinical indicators: loss of clinical attachment level, bleeding on probing, and probing depth.
A total of 40% of pregnant women suffer from periodontitis, and 67% experience bleeding on probing, the review found. Probing depth also increased throughout pregnancy, with a detection rate of 42%.
The prevalence of loss of clinical attachment was estimated to be 24%. The prevalence rates of bleeding on probing and probing depth gradually increased throughout pregnancy, and the highest prevalence rate of loss of clinical attachment level occurred in the second trimester.
The most common adverse pregnancy outcomes due to periodontal disease are preterm birth and low birth weight. Every year, about 15 million infants are born preterm, and these preterm babies usually have a low birth weight, the authors noted. As a primary cause of neonatal morbidity, preterm birth is a crucial contributor to long-term disability among survivors.
It's difficult to determine the prevalence of periodontal disease during pregnancy, as many studies use inconsistent definitions of gum disease or different reporting methods. This systematic review used periodontal disease criteria set by the U.S. Centers for Disease Control and Prevention (CDC) and the American Academy of Periodontology (AAP). However, even then, the included studies had high heterogeneity and a risk of publication bias, the authors acknowledged.
"More articles to detect periodontal disease using CDC/AAP criteria or other suitable criteria are needed in the future," the authors wrote.
The relationship between pregnancy and gum disease is well known. Sex hormones reduce the resistance of periodontal tissue to bacterial inflammation, so tissues are not able to repair themselves as easily, promoting an inflammatory response.
The levels of sex steroid hormones in saliva increase throughout pregnancy, causing more inflammation and gingival bleeding. These symptoms are observed in early pregnancy, progressively increasing with the progress of the pregnancy.
"Given the unhealthy consequences, public health impact, and the expansive disease burden, it is worthwhile to investigate more aspects of periodontal disease during pregnancy, so as to enhance the periodontal health of pregnancy," Chen and colleagues concluded.