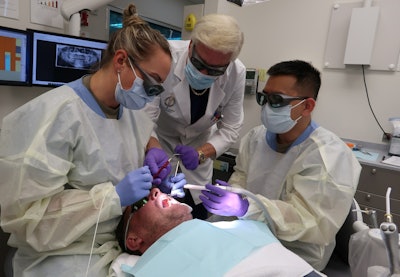 The U.S. Air Force has implemented dental laser-assisted regeneration technology, according to Millennium Dental Technologies, Inc. Specifically, the Air Force is using Millenium's proprietary LANAP protocol and laser dentistry to treat periodontal disease, the company announced at the 109th Annual Meeting of American Academy of Periodontology in Austin, TX.
LANAP, which is used alongside a specialized laser -- the PerioLase MVP-7 -- is designed to selectively remove harmful oral bacteria and infected tissue while preserving healthy tissue and helping to save teeth from extraction, according to the company. The procedure does not entail any incisions or sutures and involves less postoperative pain (without the need to prescribe opioids).
The protocol is being implemented at the Air Force Postgraduate Dental School, which is part of the 59th Dental Group at Lackland Air Force Base in San Antonio.