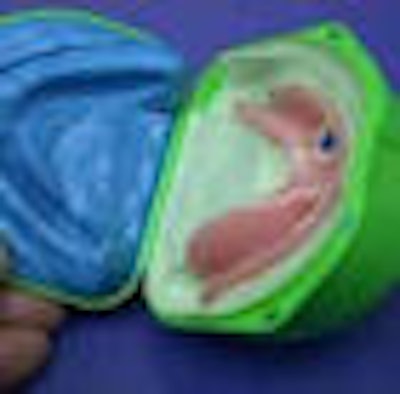 It's 4 p.m. on a Friday and Mr. Smith has just stormed in demanding another "adjustment" of his eight-year-old dentures. You've repeatedly recommended new, implant-retained overdentures, but he says he can't afford them. What's a doctor to do?
The question of whether to reline, rebase, or remake an uncomfortable denture often presents a challenge because there are no standard guidelines. But through consultation with some of the leading experts, we've been able to identify some signposts to help a diligent dentist choose the right path.
The first step in achieving patient satisfaction is education. Denture wearers must have a clear understanding of what to expect after the dentures are inserted, including the need for continuing care. Even the best fabricated dentures lose retention and become unstable over time because of alveolar ridge resorption. This leads to a cycle of denture sores and more bone loss from the increased movement of the denture.
When this occurs, dentists have a choice of three basic procedures, according to Richard Winter, D.D.S., a Wisconsin dentist who has written extensively about "upgradeable dentistry":
Reline -- add material to the tissue bearing (acrylic) surface of the denture
Rebase -- replace all of the acrylic except the teeth
Remake -- replace an existing denture
In "Relining, Rebasing Partial And Complete Dentures" Journal of the American Dental Association (April 1995, Vol. 126, pp. 504), Gordon J. Chistensen, D.D.S., M.S.D., Ph.D., gives criteria for relining or rebasing: poor retention or stability: collapse of vertical dimension of occlusion, lack of display of teeth during speech (indicating collapse of dentures toward alveolar ridges), degeneration of denture bases, and lack of proper denture extension into mucobuccal fold areas.
Dennis Kaylor demonstrates his technique for duplicating dentures in three appointments.
Having trouble viewing this clip?
Click here to download the free Flash player.
Reline
As a rule of thumb, most standard dentures will need a soft or hard reline to improve their fit during the first three to five years after fabrication. Soft relines are done chairside by adding silicone-based material to the tissue-bearing surface. They temporarily solve problems related to healing, gum sores, and poor fit. And, because they're odorless, tasteless, flexible, and fast, patients like them. They remain soft for several months, but over time, they are prone to fungal contamination, delamination/separating, and staining.
Hard relines can be done chairside with light-cure or self-cure materials. For lab relines, the dentist simply works with the existing dentures to take an impression using a light body C&B material, and the lab adds the additional acrylic.
Rebase
The doctor takes a similar impression for a rebase. Rebasing is recommended most commonly when the acrylic is too thin or needs more extension at the peripheries. While relining and rebasing improve the retention, they also may lead to more sore spots and patient frustration because soft tissue moves during the impression.
Remake
Modifying existing dentures can extend their usefulness, but at some point the old set just has to go. If the denture doesn't fit, the vertical has collapsed, the teeth are worn to nubs or keep popping off, and the base looks like an ongoing street repair project, it's time for implants or a remake. This happens gradually, so many doctors use five years as an arbitrary cutoff simply because many insurance companies will reimburse for a new set at that point.
When Mr. Smith bites your head off at the mere suggestion of implants, you may try convincing him to get a "three-appointment denture," a very simple procedure for replacing existing dentures introduced in the 1970s by the late Robert H. Griffiths, D.D.S., ADA past president ('81-'82), and Don Kaylor of Kaylor Dental Lab. The recommended materials and steps can be found online at Kaylor Dental.
Practice management experts tell us patients accept treatment better when they feel they have a choice. The best choice to the patient right now may be an economic alternative to the ideal treatment. But Dr. Winter's concept of "upgradeable dentistry" allows for choices now and in the future. We must give patients "the dignity to choose better dental options as they can afford them," he writes. "The denture is not a destination but a temporary solution to the lack of teeth."
Think moving from an apartment to a three-bedroom starter home, then to a minimansion in the suburbs after a few promotions. Likewise, a patient is gradually transitioned from provisional dentures to implant-retained overdentures as their financial circumstances improve. Ultimately, this approach leads to patient and doctor satisfaction, as it balances dollars with compassion and sense.
Monica "Dr. Moe" Anderson, D.D.S., is a public health dentist, writer, and motivational speaker in Austin, TX.