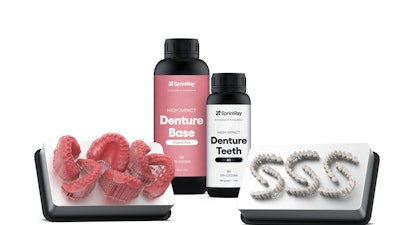 Image courtesy of SprintRay Inc.
The U.S. Food and Drug Administration (FDA) has granted 501(k) clearance for the first ceramic-infused resins for 3D-printed dentures and baseplates made by SprintRay.
Designed to be used with high-impact dentures, the resins can be used to repair full and partial removable dentures and baseplates. SprintRay's high-impact denture teeth and resins are made with NanoFusion, a new ceramic composition that forms dense polymer chains and is designed to provide dental prostheses with better strength, longevity, and durability, according to the company. The resins are integrated with SprintRay's 3D-printing systems, including the Pro S 3D printer and advanced ProCure 2 and Pro Wash/Dry systems.
Additionally, the company is offering Cloud Design, its new on-demand customized denture design service, with a turnaround time of 48 to 72 hours. With the launch of the new resins, SprintRay's design services cost a minimum of $75 per arch and eliminate the need for CAD software.