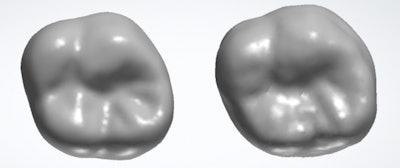 Image courtesy of the University of Hong Kong.
Researchers at the University of Hong Kong (HKU) have developed a novel manufacturing method using generative artificial intelligence (AI) to create dental crowns.
A recently published study described the research team's method, which employs an AI algorithm that uses a 3D deep-learning approach to produce personalized dental crowns with a high degree of accuracy. The method mimics the morphology and matches the materials required for the biomechanics of natural teeth.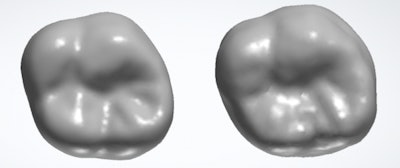 In the study, biomechanical finite element analysis revealed that by using lithium silicate, the AI-designed crown could come very close to achieving the expected lifespan of natural teeth (Dent Mater, February 21, 2023, Vol. 39:3, pp. 320-332.). The software houses a library that contains predefined crown templates to assist in generating prosthetic designs. The researchers, led by Dr. James Tsoi, said that further adjustments are still needed to meet individual conditions.
When compared to two conventional CAD crown design methods, the HKU team's method had the lowest 3D discrepancy, the closest cusp angle, and similar occlusal contacts compared to natural teeth.
The researchers added that clinical trials for using this method are underway. The team is also working on the applicability of this tool in other dental prostheses, such as bridges and dentures.